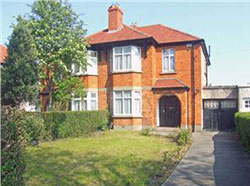 The residential suburban district of Cabra-Drumcondra (a prime area) consists of two areas rather different in character. Cabra, just five kilometres from Dublin, used to be a sparsely populated rural community. It was developed in the 1940s to provide public housing for Dubliners, and most of the residents lived in inner city tenements and apartments. The western side of Cabra is home to an industrial park with many factories. In the centre of Cabra, bridging the east and the west, is a new housing complex that can house hundreds of families.

Drumcondra offers more upscale investment properties. This elegant suburb is home to the Archbishop's palace and three major Dublin University schools: All Hallows College, Mater Dei Institute of Education and St Patrick's College of Education.
The Grand Canal and the River Tolka flow through Drumcondra.
---