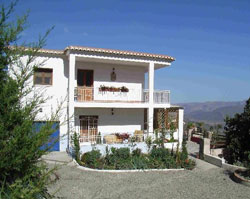 The province of Cañar has a population of 209,000, most of whom are pure Amerindian or mestizo. Cañar's pride is the country's most important Inca site, the ancient wonder of Ingapirca. Among the ruins of Ingapirca is an elliptical structure, which archaeologists theorize served as a temple of worship. Ingapirca's impressive stonework and the trapezoidal shape of its niches and entrances attest to the architectural ingenuity of the province's ancient inhabitants.
Azogues
Azogues is the capital of Cañar. The city has several notable colonial-era buildings. One of these, on the hill that overlooks the city, is the San Francisco Church, which houses the venerated image of La Virgen de las Nubes. Also in the provincial capital is the Centro de Rehabilitacion Social, a penitentiary whose inmates make top-quality back strap weavings. Other crafts that are available in Azogues, particularly in its Saturday market, are pottery, straw hats, and woven fabrics.
Biblian
A popular religious attraction in Cañar is the Virgen del Rocio Sanctuary, a structure built into the rocks high up the village. Biblian offers the loveliest views of its river valley and natural surroundings.
El Tambo
A church-hopping trip in Cañar won't be complete without a stopover at Tambo, whose church showcases a number of great religious art pieces. Tambo's locals speak Spanish fluently. Tambo has budget-level restaurants and lodgings, with a few internet shops, a bank, and a travel agency.
---