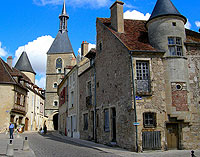 Burgundy (Bourgogne) is a famous wine region, and is also rich in history and tradition. Fine examples of Roman, Gothic, and Renaissance architecture abound. These include the Renaissance Châteaux of Tanlay, the Château d'Ancy-le-Franc, and the Vézelay Abbey. The Cistercian monastic order has left a significant mark through the monasteries and abbeys of Citeaux, Cluny, and Fontenay (now a UNESCO World Heritage Site).
Of course, you cannot speak of Burgundy without mentioning its charming wine villages and wine routes. Burgundy is renowned for its wines, which include Chambertin, Meursault, Pommard, and Santenay. And although they are not usually called Burgundy wines, Beaujolais and Chablis are produced in the region as well.
A prosperous rural region, Burgundy thrives on farming, cattle herding and dairy production. Charolais beef, Epoisses cheese, Dijon mustard, and Crème de Cassis are among the notable food products of Burgundy.
Burgundy's terrain offers a multitude of contrasts, from the wooded hill country of Morvan to the limestone escarpment of the Côte d'Or. The Saône River that traverses the Côte d'Or is a tributary of the Rhône; another Burgundy river, the Yonne, is a tributary of the Seine. These key rivers contribute to a network of waterways that include the scenic Burgundy Canal.
Burgundy's climate is continental, with snowy winters and hot, dry summers punctuated by occasional rain showers. Autumn is the region's most pleasant season.
Burgundy's regional capital is Dijon. Sites of interest in Dijon include the Ducal Palace and an impressive number of cathedrals, such as Dijon Cathedral (St. Bénigne), St. Étienne, St. Michel, and Notre-Dame. Dijon was also the birthplace of Gustave Eiffel, the architect of the famous Parisian landmark.
Dijon has a reputation for being a "gourmet capital", hosting the International and Gastronomic Fair. Besides being known for Dijon mustard, the city is also associated with the Kir cocktail (white wine and crème de cassis), named for a former mayor. Finally, Dijon offers food lovers a stellar selection of fine restaurants.
---