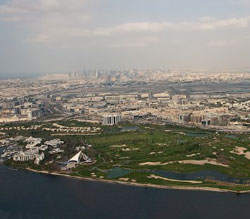 Despite being highly urbanized, Bur Dubai (a prime area) offers architectural glimpses into Dubai's past, exemplified by the Dubai Museum in the Al-Fahidi Fort, built in 1800. Said to be Dubai's oldest building, it used to be the home of former rulers and was converted into a museum in 1971.Another historical residence in Bur Dubai that is now a museum is the Shaikh Saeed Al-Maktoum House, built in 1896 as the home of the present ruler's grandfather. It serves as a prime example of historical architectural design in the Middle East.

Bur Dubai's other historical attractions are the Sheikh Mohammed Centre for Cultural Understanding, the Heritage and Diving Villages, and a rebuilt Bur Dubai Souk.
Due to current efforts to reconnect the Dubai Creek with the sea, Bur Dubai will eventually become an island by 2010.
Al-Bastakia
This neighbourhood in the east features traditional courtyard homes with old-style wind towers, built at the turn of the 20th century. Its historical landmarks blend with modern low-rise apartment buildings and tourist accommodations. Small stores filled with discounted goods compete with shopping malls for bargain hunters.
Karama
Near Dubai Creek is the residential middle-class subdistrict of Karama, which means "dignity". Built in the 1980s, Karama has older homes than the other areas of Dubai. The cityscape has a uniform grid pattern look, with the height of buildings not going beyond four storeys and all painted in pale colours or in white. Within these two square kilometres of low-rise structures are apartment buildings and small businesses, run mostly by Indian and Sri Lankan residents. Aside from its South Asian residents, other non-UAE nationals include Europeans, Lebanese and Iranians. Most residents here rent their homes.
Karama is also a source of shopping bargains, from purses to watches, from clothing to furniture.
North of Karama lies Bur Dubai's diplomatic neighbourhood by the Creek, where many embassies and consulates hold office.
Zabeel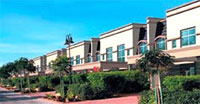 Zabeel in northern Bur Dubai is divided into Zabeel 1 and Zabeel 2, both filled with high-end villas and townhouses.


Zabeel 1