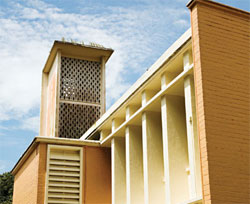 Bukit Timah (a prime area) is the highest point in Singapore, with an altitude of 164 metres. Single family houses, duplexes and condominiums make up the residential units here. As land is expensive in this tiny country and most Singaporeans live in small HDB (Housing and Development Board) flats, this area is clearly where wealthier Singaporeans and expats live.

There are a number of good schools in Bukit Timah, such as the Anglo-Chinese School, the Singapore Chinese Girls' School, and Hwa Chong Institution. The National University of Singapore's Law Faculty and the Singapore Management University are here too.
Bukit Timah was a hilly jungle inhabited by tigers, until the British began development here in 1845. In an effort to preserve some of its wildlife and natural beauty, a large portion of Bukit Timah was turned into a nature reserve. Today, Bukit Timah's primary rainforest lies undisturbed in this protected area adjoining the larger Central Catchment Nature Reserve.
The Singapore Botanic Garden opened in 1859, and is open from morning until midnight every day of the year, free of charge. One side of the garden is bordered by Bukit Timah Road.
Holland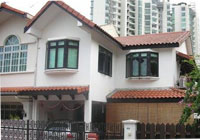 Close to Orchard Road and Bukit Timah, Holland is a popular district with expats. While affordable HDB (Housing and Development Board) flats can also be found here for the locals, a significant number of residential buildings are built for the expat community. Some international schools, embassies and private clubs are also in the vicinity.

Holland Village is filled with shops, cafés, restaurants and pubs. It is a place to visit in the daytime and at night. If you want to get away from the malls that carry familiar brands and items, you can go on the hunt for unique Asian arts, crafts, antiques and handicrafts at Holland Road Shopping Centre.
After a few hours of shopping, you can take a break in one of the many cafés or restaurants that make up the place. Chip Bee Garden, across Holland Road Shopping Centre is where some of the more exclusive fine-dining restaurants of the area can be found.
Holland does not sleep. The area continues to buzz with activity at night, when popular bars such as Tango's, Baden, Harry's Bar and Wala Wala open for business.
Katong
The wealthy of the late 19th century built their seaside mansions, resorts and villas in Katong, a neighbourhood by the sea. In the 1960s, Katong was expanded by reclaiming land all the way to East Coast Park to provide more space for the growing well-off population of Singapore.
The Peranakans, or Straits Chinese, and Eurasians were the original inhabitants of the area. As a result, the architecture of the shophouses and terrace house here is a blend of Chinese, Peranakan and English colonial styles. Today, many high-rise condominiums stand tall beside these traditional and heritage structures. Katong is also known for its cuisine. Try some of the restaurants serving traditional fare and visit some of the shops that sell items from the Peranakan culture.
Wealthy Americans have been moving to this area from Bukit Timah since the 1990s and some of the shophouses have been conserved into high-end boutique hotels in response to the increased numbers of wealthy Americans visiting the area.
Fashion brands such as Agnes B. and Comme des Garçons have expressed interest in opening exclusive boutiques in the region's charming shophouses. These closed door boutiques will cater to the very wealthy who would like to avoid the hustle and bustle of the Orchard area.
Aljunied
A neighbourhood in the eastern part of Singapore, Aljunied was formerly agricultural land that was urbanized. It is now a residential neighbourhood with shops, schools, parks, and recreational facilities.
---