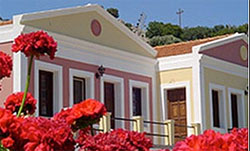 The name Bukit Merah means "red hill", and it is indeed a hill with orange-red, iron- and aluminum-rich soils. When exposed without vegetation, the soil might seem like a blood-soaked landscape.

Historic sites in Bukit Merah include the deep-water Keppel Harbour, whose waterfront is currently being developed; the bay's Keppel Island, also being developed; the tourist-friendly Mount Faber, which has a view of the Central Area; and Labrador Nature Reserve, a conservation area that includes bunkers from World War II and earlier military ventures.

There are some private residential developments at the foot of Mount Faber. They are quite pricey because of their prime location.
Harbour Front
HarbourFront in Bukit Merah is the gateway to Singapore's prime locations, Sentosa Island. As a result, it is also undergoing massive redevelopment and improvement.
Its proximity to Keppel Harbour and the construction of Singapore's World Trade Centre and World Trade Centre Exhibition Complex in 1978 has also enabled HarbourFront to prosper. The Singapore Cruise Centre opened its doors herein 1991 to make it the first international cruise terminal.
Buildings of note in the area include HarbourFront Centre, Singapore Cruise Centre, St James Power Station and VivoCity, which is now Singapore's largest shopping mall. It was built at the site of the former World Trade Centre Exhibition Complex. One of its features is its wide open space along the waterfront.
The HarbourFront MRT Station and bus interchange has made access to this area easier. The Sentosa Express was completed in 2007 and the Circle Line will be complete by 2011.
---