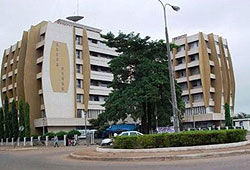 The Brong Ahafo Region is Ghana's bread basket. The countryside is covered with large forests, coca plantations and acres of fields that grow food crops. Its farms combine traditional and modern farming methods to produce good yields of maize, millet, sorghum, rice, yam and cassava.  Brong Ahafo's vibrant markets sell these and traditional pottery and textiles.

The region, however, is known mainly for its natural attractions. Its landscape is green and mountainous, with many rivers and stream running through it. There are breathtaking waterfalls, fascinating caves and wildlife sanctuaries, like the Boabeng Monkey Sanctuary in Fiema. The Bui National Park is home to various types of rare flora and fauna. With all this greenery, the air of Brong Ahafo is wonderfully clean and largely free from industrial pollution.
The Brong Ahafo Region's tourism and telecommunications facilities are not very well-developed. But its capital, Sunyani, is growing in size and prosperity.
Sunyani
Brong Ahafo's capital, Sunyani, is a clean and well-maintained city, with modern telecommunication facilities and a good water supply.
There are some institutes of higher education in the city, including the College of Renewable National Resources and the Catholic University. It also has some of the best primary, secondary, and technical schools in Ghana. There are also several medical centres, including the high-tech Sunyani General Hospital. Traditional music is performed regularly at the Centre for National Culture.
Some of the region's tourist attractions are easily accessible from the city, including the Kintampo waterfalls and the monkey sanctuary. It has its own small airport, but Sunyani is not much of a draw for tourists in itself. It is a pleasant place to live, however, with its relaxing atmosphere and modern facilities.
---