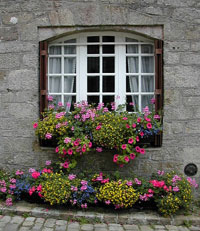 Brittany, or Bretagne, enjoys a warm and temperate climate with frequent (but seldom heavy) rainfall. Summer and winter tend to be moderate.
Brittany is dotted with a large number of megalithic monuments including gigantic menhirs, dolmens, and stone circles. At the commune of Carnac (Karnag), located by the Gulf of Morbihan, you will find the Carnac stones, one of the greatest concentrations of these epic menhirs, and among the village's biggest tourist draws.
Other sites of interest are Brittany's numerous medieval châteaux and fortified towns. The walled port city of Saint-Malo (Sant-Maloù) is its most popular tourist attraction.
The south coast of Brittany is home to popular summer resort areas, including Côte d'Émeraude, Côte de Granit Rose, La Baule-Escoublac, and the Gulf of Morbihan. You can also count the outlying islands such as Belle Île, Île de Bréhat, and Île de Sein. Sailing, windsurfing and scuba diving are favorite activities in the not-so-warm waters off the Brittany coast.
Belle Île is also notable for its Lyrique-en-Mer/Festival de Belle-Île, the biggest opera festival in western France. Another well-known festival in Brittany is the Interceltic Festival of Lorient, an annual celebration of Celtic arts and culture.
Brittany has a number of prominent golf courses, including the La Baule Golf Club International Barriere, Domaine de la Bretesche, and Inter Hotel Du Golf De Saint Laurent.
Brittany's economy is mainly supported by tourism, farming, and fishing. Shellfish and other seafood in are abundant and of superb quality. Brittany is also famous for its crêpes (called "galettes" by locals).
Rennes, the regional capital, places a great deal of importance on culture and the arts, offering a number of esteemed cultural festivals, such as the annual Les Transmusicales music festival. The city features notable architectural sights both historic and contemporary, from the 17th-century Parliament building to the modernist Cité Judiciaire. Rennes Cathedral, or the Cathédrale Saint-Pierre de Rennes, is one of its most striking landmarks, which practically dominates the Rennes skyline.
---