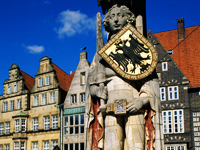 The state of Bremen is the smallest of the 16 federal states but an important one. The capital Bremen is a historic city which is some 1,200 years old and boasts a variety of Baroque and Renaissance structures around its old market square. With thousands of cafes, restaurants, bistros, pubs, and bars, it is a great place for dining. The seafood, beer, coffee, and chocolate of Bremen are famous all over Germany.
Bremen has endured a history of defending itself from attempts at annexation by Sweden or France. In 1813, Bremen together with Hamburg and Luebeck successfully achieved independence and became sovereign republics. In 1817, the first German steamship was built here. The North German Lloyd shipping company was founded here in 1857, a byword for commercial shipping and now part of Hapag Lloyd.
Bremen has an abundance of cultural, historic and natural sights to offer. Bremen Town Hall, at the main market square, was built in brick gothic style built between 1405 and 1409, but its facade has elements of Dutch renaissance style. Directly opposite it stands the statue of Roland. Both have now been added to the UNECO World Heritage list. The town hall is surrounded by other famous buildings such as the guildhall, the Bremen Cathedral and the State Parliament. In addition, the Church of Our Lady and the bronze statue of the Bremen Town Musicians adjoin the town hall.
Bremen is composed of two distinct enclaves by the Weser River amidst the State of Lower Saxony: Bremen, the capital, and Bremerhaven. These two cities are 60 km apart, but are united in character.
Bremerhaven, Germany's largest coastal town by the North Sea, is a popular holiday destination. There is a commercial centre with trendy shops, pubs, and bistros overlooking the sea which is always full of watercrafts of all kinds as it is the top European fishing port, an internationally renowned cruise ship port, and a vibrant hub of international commerce. It boasts a museum harbour and maritime museum, plus cultural museums, galleries and theatres.
Despite its bustling economic activity, Bremen maintains a gracious traditional character. The past is kept alive in a number of preserved and renovated old streets. Böttcherstraße in Bremen is a cultural centre located in an area traditionally dominated by craftsmen. Schnoor, a delightful area of preserved old buildings, is one of the main tourist attractions.
---