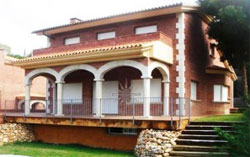 The volcanic island of Brava in Sotavento is Cape Verde's smallest inhabited island. Once thriving in whaling activities, it is now primarily agricultural. In most areas, the island retains the atmosphere of a 19th century settlement with Portuguese-style farmhouses and old colourful markets.

Brava receives more rain than other islands in Cape Verde, and many times clouds partly hide the tiny capital of Vila Nova Sintra. The island's microclimate blesses Brava with vibrant vegetation, earning it the title "The Island of Flowers".
Brava has many churches, schools, gardens, squares, a lyceum, and a gymnasium. It does not have an active airport, and can only be reached by inter-island ferries.
The island has steep shorelines which can hardly be considered beaches, but it has the picturesque green village of Faja d'Agua with a small black sand beach between a cove and lava cliffs.
Many Brava natives work and reside in North America, and come home during the feast of Saint John the Baptist, the island's most important celebration.
---