This is the only Bratislava district on the right bank of the Danube. The city's two main universities, the University of Economics and the City University of Bratislava, are here. Bratislava V is popular with low-income families and migrants, as it has some of the cheapest property prices in the city.
Petržalka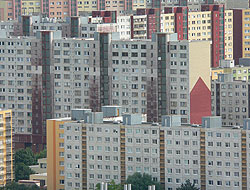 Petržalka is characterized by a succession of concrete residential buildings that all look the same. The area is mostly inhabited by families with school-age children. Though not as green as the other boroughs, it is the location of the Sad Janka Král'a, one of Bratislava's biggest parks.

The land on the Danube's right bank is being eyed for residential and commercial development. Petržalka is already seeing some construction in its southern area, and the riverside to the north and east might gain some interest in the future as well. The other boroughs in district five, Jarovce, Rusovce, and Čunovo, are much like the suburbs in the United States, consisting mostly of detached houses with a rural character.
---