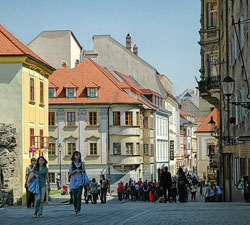 The Bratislava Region in the western part of the country is the smallest administrative region in Slovakia, but its most important. Bratislava's terrain is dual in nature, with the low-lying mountain ranges of the Little Carpathians splitting into the Záhorie lowlands to the west and the Danubian Plain to the east. The Danube River, the Morava River, and the Little Danube River all run through here. The pristine beauty of the land areas of Dunajské luhy, the Little Carpathians, and the Záhorie are all under state protection.

The national and regional capital, Bratislava City, is situated on the banks of the Danube River.
With its perfectly preserved Baroque centre, charming pedestrian areas, and café life, the capital has shed its formerly dreary post-Communist era image, and has become more cosmopolitan and bohemian. The city and the rest of the Bratislava region is mostly urbanized.
---