The fourth district is Bratislava's biggest and has a reputation for being the safest and most peaceful. Its location near a river and a forest make it an idyllic residential area.
Karlova Ves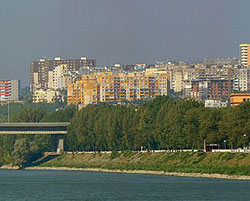 The borough of Karlova Ves is popular with expatriates and faculty members from Comenius University. Once a quiet vineyard village, it has recently experienced a boom in residential construction, thanks to nearby highways leading to Vienna and Prague and its proximity to Bratislava's centre. Dlhé Diely is one of Karlova Ves' prime areas. Located on a mountain slope and surrounded by nature, the concrete buildings of Dlhé Diely afford a great view of the Danube. The Mlynska dolina area is the headquarters of Slovak Television. An old cemetery, the Slávičie údolie, is just nearby. The area has two international schools.

Karlova Ves has large park and forest areas. It is a middle-class neighbourhood that has attracted young professionals and young families in recent years.
Lamac
The smallest borough in all of Bratislava, Lamač was an independent vineyard village until 1946 when it became part of the fourth district. It was once a main supplier of fruits and other agricultural produce to the capital's markets. Popular landmarks in this area are the Memorial for the soldiers killed in the First World War, the Church of St. Margita, and the Chapel of St. Rozalia. Residential buildings here are mainly small, single-family homes and apartment blocks. Lamač borders the forest park.
Devin
Devín's rural air separates it from the rest of the boroughs of the fourth district. Its main attractions are a castle located on a spectacular hilltop, a walking trail in the areas surrounding the village, verdant gardens, bountiful vineyards, and serene walks along the Danube River. Despite its idyllic charm, however, most locals residing here prefer to find work outside the village.
If you prefer a more historical setting, the borough of Záhorská Bystica has preserved peasant habitats along with more contemporary living quarters.
Dubravka
Being far from the city centre, situated near a forest, Dúbravka is not considered one of Bratislava's prime areas. Drab, Communist-era housing estates built in the 1970s have been built near older rural village homes.
---