The district of Bratislava III (a prime area) is divided into the boroughs of Nové Mesto, Rača and Vajnory. It is the city's greenest quarter, with large parks and woods that are used for leisure and recreational activities.
Nove Mesto(New Town)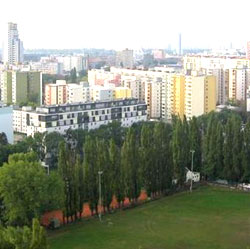 Nové Mesto is known for its large, densely forested areas and woodlands and its varied range of residential areas. Prime property investment areas here include properties along Vajnorska Street, Koliba, Kramáre, and Vinohrady.

There are administrative and cultural institutions, shopping centres, two universities and large forest parks in Nové Mesto. Housing here is largely composed of modern apartment buildings and row houses built in the 1950s. The residential areas are interspersed with green spaces and parks.
Kamzík Hill is a popular tourist spot. It has a chairlift and a hilltop restaurant with great views of the city. The Polus City Centrum is the district's nature centre and is located on Vajnorska Street. It is surrounded by many recreational facilities and the Polus City Centre shopping mall. This place is quite popular with expatriates since most of the residents are foreigners employed in the many establishments nearby.
Koliba Quarter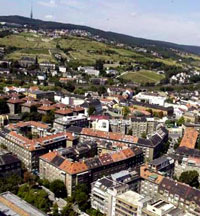 Koliba and its neighbour Kramáre are enclaves of the well-heeled, with most of their residents being diplomats and executives. Koliba offers spectacular views of Bratislava. Homes are mainly single-family detached houses, although many are old and have yet to be renovated. If you'd rather spare yourself the troubles of renovation, there are also new apartment buildings and residential villas being constructed. Despite its tony image, the drawbacks to living here are the need for road access improvement, and the lack of supermarkets, schools, and cultural institutions in its immediate vicinity.
Kramare Quarter
There are many new housing developments in the small but favoured neighbourhood of Kramáre. Close to the city centre, but surrounded by sweeping Kačín Park and Kamzík, Bratislava's highest hill, Kramáre is a nature getaway for Bratislavans without even having to leave the city. The lakes of the nature reserve Železná Studnička are popular with anglers. Bratislava residents ski in the winter and picnic and play sports here in the summer. Kramáre's location above the city affords views of Austria and the beautiful Danube River.
Raca
Rača is situated along the major road Račianske mýto up to Bratislava's edges. Apartments here are made of concrete, although the local government has yet to improve infrastructure and connection to the Old Town to make living in this area more comfortable and convenient.
Vajnory
The borough of Vajnory could be a great area if only infrastructure and public facilities were improved. It has retained its rural aspect despite the growing number of concrete buildings. Plans are underway to build a technology park in this area.
---