The Bratislava II okres (district) is a middle-class area that includes the boroughs of Ružinov, Podunajské Biskupice and Vrakuňa. Once a rural area, Bratislava II became the industrial centre of the city, with lower-income neighbourhoods where the employees of the factories lived. There are office and apartment buildings around Štrkovec Lake. Bratislava II has, in fact, more new office and apartment buildings than anywhere else in the city, and a lot of construction is still underway in the district.
Ruzinov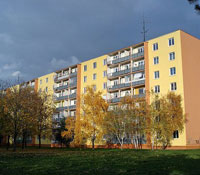 Despite industrialization, Ružinov has maintained its natural beauty and is one the city's greenest areas. It has several lakes and streams including Štrkovec Lake, a major sporting and recreational centre. Getting around Ružinov is very easy because of the direct road connection through the Port Bridge.

Ružinov has many attractive neighbourhoods that have drawn many expatriate residents, particularly in Prievoz. Many sports and cultural events are held here throughout the year. If you are moving here with children, there are many great playgrounds, the nicest of which is the one near Štrkovecké Lake.
The modern changes that came during the 19th century brought an end to the town's formerly agricultural industry. There are now two industrial plants in town. Present-day Ružinov is also the location of Bratislava's cargo port, the popular open-air market Miletičova, and Slovakia's main international airport, M.R. Štefánik.
Ružinov is one of the fastest developing areas in the capital, evidenced by its having the highest number of newly built apartment buildings.
Nivy Quarter
Once mainly populated by lower-income neighbourhoods, the residential Nivy Quarter near the city centre is also being developed as a business sector, with office buildings going up near the homes and commercial areas.
---