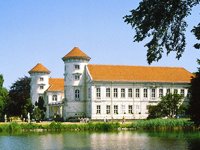 Surrounding Berlin and bordering Poland, Brandenburg has its own beauty and unique character. It boasts a well-maintained environment, with 15 vast protected areas. It has a romantic landscape, with thick forests on rolling hills and thousands of interconnected lakes and waterways.

There are many charming villages in Brandenburg. In the towns are many castles and monasteries, often with lovely gardens. Potsdam, its capital, was once one of Europe's most prominent royal cities and is particularly renowned for its magnificent castles.
Brandenburg's climate is continental, with very long and cold winters and warm summers with very little rain. The population is quite sparse in the north. Though it is the fifth largest of the states of Germany, it has a low population density. Its population is just 2.6 million.
With its rich natural beauty, it is a wonderful setting for such outdoor sports as hiking, cycling, and all kinds of watersports. There's varied wildlife in its nature reserves.
Potsdam
Surrounding Berlin, but not including Berlin - Potsdam is its capital - Brandenburg had to relinquish a third of its territory to Poland after WWII. Until 1918, Potsdam was the resident of the Prussian Kings and had a status similar to Windsor in England. The Sansoucci Palace was built under King Frederick II, as a summer palace, to relax from the stresses of the Court in Berlin. Voltaire was a guest here.

Compared to other notable churches and palaces in East Germany, Sansoucci fared well under 50 years of communism.

Potsdam has a rich complex of palaces and parks built between 1730 and 1916, which in 1992 were made a UNESCO as a world heritage site.
Brandenburg an der Havel
The city of Brandenburg an der Havel is surrounded by natural beauty. It is a cultural centre with medieval architecture and over 1050 years of history. This is reflected in its three historic town centres: the Old Town (Altsatdt), New Town (Neustadt) and the Cathedral Island. There are marvelous historic buildings like the Brandenburg Cathedral, and the great churches of St. Katharinen, St. Gotthardt and St. Nikolai.
Brandenburg is located in the largest continuous European inland water area of the Havel lakes. Water sports enthusiasts find it a paradise, with over 30 square kilometres of water.

During summer, the Brandenburg orchestra has a summer church music festival which is very popular.
---