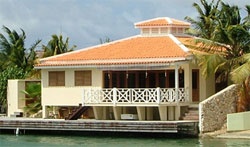 The small island of Bonaire (a prime area) situated in the Southern Caribbean is famous for its over 80 dive sites. It is also recognized for its marine preservation efforts.

Much like Curaçao, Bonaire is a lively mixture of different cultures. These are especially evident in the islands' dances, from the local simedan and bari to the European waltz, polka and mazurka. The nearby Caribbean islands are represented by the rumba, carioca, and merengue. Even American jazz is popular on the island.

This is also true for the island's cuisine. Since Bonaire's lands are not fertile enough to grow crops, much of the food supply comes from other nations in the Caribbean and as far as the U.S. and Europe. So it comes as no surprise that Bonaire is a culinary paradise. In fact, the islands' cooks are consistent winners in the prestigious Caribbean Culinary Competition.

The island's many scenic spots and the friendliness of the people make Bonaire one of the best places in the Netherlands Antilles to buy real estate. Two of the most successful and sought-after neighbourhoods are Belnem and Punt Vierkant, which both offer luxury villas.
The current trend, however, is the development of neighbourhoods with more reasonably priced homes and lands. Realtors also convince investors that they can make money for themselves if they rent out their home properties to visitors. Such a situation would also generate income for Bonaire.
Kralendijk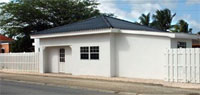 Kralendijk, the capital of Bonaire, is a quaint harbour town with pretty beaches and pastel-coloured stucco houses and buildings. It is the island's administrative and commercial centre, with government and office buildings, hotels, restaurants and bars, and duty-free shops.

Kralendijk boasts a small museum and some historic buildings and restored houses dating back to the 18th and 19th centuries along Kaya Grande Street. The main street is also famous for shopping.

The city is famous for its Marine Park, which not only has beautiful pink beaches for swimming, but also gives visitors a chance to see graceful flamingos.
A popular diving and snorkelling spot just off the coast of Kralendijk is the undeveloped island of Klein Bonaire.

A waterfront development here offers 15 villa lots and 78 casitas for sale. Each casita has 3 bedrooms, a private garden, a swimming pool and a protected dock.
Belnem

The quiet and exclusive neighbourhood of Belnem has elegant oceanfront villas. Just south of Flamingo International Airport, Belnem is only a few minutes' drive from Kralendijk, the island's capital.
Bel Air Complex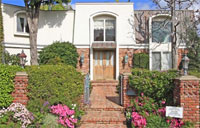 Situated in the peaceful neighbourhood of Belnem, Bel Air Complex offers luxurious beach apartments with 2 bedrooms and bathrooms, a living room, a kitchen, a terrace and a sun deck.