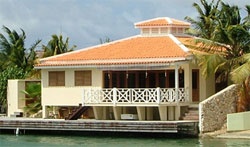 The small island of Bonaire (a prime area) situated in the Southern Caribbean is famous for its over 80 dive sites. It is also recognized for its marine preservation efforts.

Much like Curaçao, Bonaire is a lively mixture of different cultures. These are especially evident in the islands' dances, from the local simedan and bari to the European waltz, polka and mazurka. The nearby Caribbean islands are represented by the rumba, carioca, and merengue. Even American jazz is popular on the island.

This is also true for the island's cuisine. Since Bonaire's lands are not fertile enough to grow crops, much of the food supply comes from other nations in the Caribbean and as far as the U.S. and Europe. So it comes as no surprise that Bonaire is a culinary paradise. In fact, the islands' cooks are consistent winners in the prestigious Caribbean Culinary Competition.

The island's many scenic spots and the friendliness of the people make Bonaire one of the best places in the Netherlands Antilles to buy real estate. Two of the most successful and sought-after neighbourhoods are Belnem and Punt Vierkant, which both offer luxury villas.
The current trend, however, is the development of neighbourhoods with more reasonably priced homes and lands. Realtors also convince investors that they can make money for themselves if they rent out their home properties to visitors. Such a situation would also generate income for Bonaire.
Kralendijk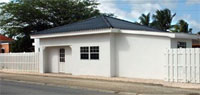 Kralendijk, the capital of Bonaire, is a quaint harbour town with pretty beaches and pastel-coloured stucco houses and buildings. It is the island's administrative and commercial centre, with government and office buildings, hotels, restaurants and bars, and duty-free shops.

Kralendijk boasts a small museum and some historic buildings and restored houses dating back to the 18th and 19th centuries along Kaya Grande Street. The main street is also famous for shopping.

The city is famous for its Marine Park, which not only has beautiful pink beaches for swimming, but also gives visitors a chance to see graceful flamingos.
A popular diving and snorkelling spot just off the coast of Kralendijk is the undeveloped island of Klein Bonaire.

A waterfront development here offers 15 villa lots and 78 casitas for sale. Each casita has 3 bedrooms, a private garden, a swimming pool and a protected dock.
Belnem

The quiet and exclusive neighbourhood of Belnem has elegant oceanfront villas. Just south of Flamingo International Airport, Belnem is only a few minutes' drive from Kralendijk, the island's capital.
Bel Air Complex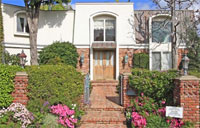 Situated in the peaceful neighbourhood of Belnem, Bel Air Complex offers luxurious beach apartments with 2 bedrooms and bathrooms, a living room, a kitchen, a terrace and a sun deck.


Punt Vierkant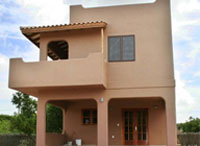 Punt Vierkant is a popular residential area located at the northernmost tip of the double-coral reef complex that originates from Playa Kalki. It is home to a great dive site with abundant gorgonian and stag horn coral colonies at a shallow shelf near the buoy marking the pier.


Hato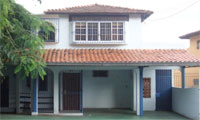 Hato is a quiet community of houses and villas in western Bonaire. It is close to the popular diving resorts Captain Don's Habitat and Lions Dive.


Republiek
The community of Republiek is situated on the western side of Bonaire. Its hillside homes offer breathtaking views of the ocean and Klein Bonaire.
Republiek is only 5 minutes away from Kralendijk and 7 minutes from beaches and diving spots.
Sabadeco /Santa Barbara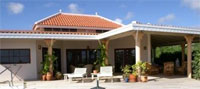 Sabadeco is an upscale residential area in Bonaire, covering 174 hectares of land including hills and shoreline. It was originally intended to be named Santa Barbara Crowns, but came to be known by the acronym of its developer, the Santa Barbara Development Company.


Sabadeco is probably the only subdivision in Bonaire with lighted streets and access roads and underground utilities for electricity, water, telephone and cable.
Sabedeco is only 10 minutes from Kralendijk and 15 minutes from Flamingo International Airport.
Bahia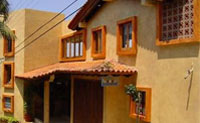 The Bahia residential development is situated a few minutes away from the Caribbean Sea. It is has 8 freestanding luxury villas, 12 semi-detached spacious residences, and 60 apartments facing the waterfront.


Rincon
Rincon is the oldest village in Bonaire and arguably the liveliest for the many local festivals celebrated here.
It is said that Rincon has a festival for everything, from the harvest festival Simadan to festivals honouring St. John and St. Peter to Dia di Rincon, which commemorates the founding of the town. Even Market Days have their own small celebrations.
Playa Frans
Playa Frans is a private community of fishermen along the west coast of Bonaire. Unlike commercial fishermen in other regions who use large nets and long lines, the fishermen from Playa Frans use traditional hand lines to catch large game fish.
Goto Meer
The inland lake of Goto Meer is a popular setting for bird watching in Bonaire. Abundant population of pink flamingos flock here to feed on shrimps. Here, one can spot other exotic bird species as well.
Alta Mira
Alta Mira is a picturesque spot found within the vicinity of Goto Meer, often missed by both locals and tourists.
It has walls and stone benches where one could just sit and enjoy a panoramic view of the windward and leeward sides of Bonaire while being refreshed by trade winds.
Sorobon
Sorobon is in eastern Bonaire, opposite Lac Bay. The beach is famous for windsurfing, and hosts local and international windsurfing competitions.
Since the waters of this region are shallow and the winds blow toward the shore, it is an ideal and safe location for beginners to learn the water sport.
Sorobon Beach Resort
Sorobon Beach Resort is a naturist resort, so don't be surprised if you see nude bathers on the beach. The shallow bay is surrounded by a barrier, making it a perfect spot for swimming, windsurfing and snorkelling.
It is part of a nature reserve protected by the UN Ramsar Convention. Hence, it is environment-friendly, with solar energy and solid waste and wastewater treatment facilities. Construction around the bay is not permitted so as not to disturb indigenous plant and animal life.
---