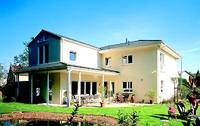 Bogenhausen is an exclusive district. Its prestigious residential area has a fine collection of beautifully preserved Art Nouveau buildings. There are a couple of parks: Arabellapark and Cosimapark and an abundance of shops and restaurants. The borough borders the city centre on its southwest. The housing is varied, including both old and new.
Altobogenhausen
Altobogenhausen is an elegant district, with a number of magnificent examples of pre-war architecture. It is one of the finest places to live in Munich by the Isar River. There are many fine shops, museums, and galleries along its maze of pleasant roads. The area is well served by public transport with many bus and tram connections. There are also several metro stations, but parking is difficult.
Herzogpark
Herzogpark is a peaceful upscale residential district, between the Isar River and the Isarhochufer cliffs. There are many villas, ranging from early 1900s houses, to ones constructed after World War II. There is little traffic, except on the Isarring elevated highway, which bisects the district and can be quite noisy.
Oberföhring
Oberföhring and Priel are dominated by apartment blocks. They provide excellent vistas of the city. St. Emmeran is a particularly green area by the Isar River. Another green area, Herzogpark, is close to this district.
Johanneskirchen
Johanneskirchen is a district with plenty of detached and semi-detached houses. It has something of a rustic atmosphere.
---