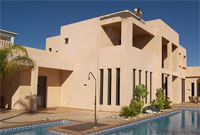 Boa Vista, which means "good views", boasts wide expanses of stunning white sand beach and interior sand dunes with sprouting date palms like those in Sahara. Being a desert island obviously makes Boa very, very hot. It is an important nesting site for marine turtles

Interesting sights on the island are buildings completely covered in sand, like the old ceramic factory in Praia da Chaves.
The island's most popular beaches are Chaves Beach and Santa Monica. Depending on the season, the beaches can be great for windsurfing and other water sports. Deep-sea fishing and biking tours are also available. Nightlife here consists of bar and restaurants and is very low key.
Sal Rei is Boa Vista's capital, a charming harbour where most hotels are located.
---