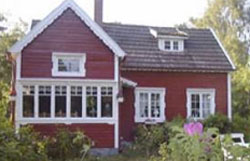 The county of Blekinge faces the Baltic Sea and enjoys sunnier and drier weather than the rest of the country. It is known as the "garden of Sweden"; its landscape of hazelnut and maple trees, giving way to walnut and beech trees along the coast, is quite beautiful.

Blekinge's capital is Karlskrona, which was declared a UNESCO World Heritage Site by virtue of its being one of the finest and best-preserved examples of a 17th century planned naval city in the world. Many of the buildings are in great shape and are even in use to this day. The city curves out into the Baltic, facing the islands of the Blekinge archipelago.
Canoeing and salmon fishing in the Mörrum River are favourite local pastimes. The lovely Eriksberg Nature Reserve protects deer, European buffalo, and other endemic flora and fauna.
---