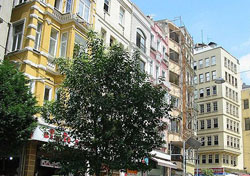 Until the First World War, Beyoğlu (a prime area) was known as Pera, an important and highly sophisticated residential area for the Ottoman elite. However, when the Turkish Republic was founded, Beyoğlu suffered economically as most of its rich constituents left.

During the 1940s, poor migrants from Anatolia moved here, and Beyoğlu's extravagant mansions and Neoclassical and Art Nouveau apartment blocks gradually deteriorated into overcrowded dwellings badly in need of renovation.
However, recent urban renewal projects have paid off and the district is being revitalized as a prime commercial area for young professionals. While the towns of Tophane, Kasımpaşa and Karaköy still suffer from poor infrastructure, İstiklâl Avenue is now packed with impressive buildings.
Beyoğlu is a rather cosmopolitan area. The British, German, Russian, Dutch and Swedish consulates are here, and the neighbourhoods of Cihangir and Gümüşsuyu are still filled with old foreign immigrants from various parts of Asia and Europe.
Istiklal Avenue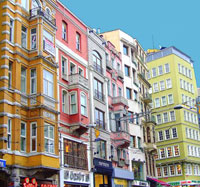 İstiklal Avenue is a very famous street on Istanbul's European side, located in the historic district of Beyoğlu. The mainly pedestrian thoroughfare extends from the Galata Tower to the Taksim Square, with antique trams running along it.

During the time of the Orient Express, the glamorous avenue was called Grande Rue de Péra, favoured by elites and intellectuals. Then it went into decline, until recent restoration has gone some way to revive its former glory.
Nineteenth century Turkish buildings surround İstiklal Avenue. Some of them have been converted into charming boutiques, cafés, restaurants, chocolateries, patisseries, art galleries, libraries, theatres, music stores, bookstores and cinemas. At night, pubs and night clubs come alive and play live music.
Galatasaray Square at the avenue's centre is named after the Galatasaray Lisesi, the first European-style school in Turkey and the oldest Turkish high school in Istanbul. It was built in the 15th century, during the Ottoman empire, and its magnificent wrought-iron gates still welcome students to classes everyday.
North of the square are the historic Çiçek Pasajı which houses cosy restaurants and taverns, and the Balık Pazarı, now a gourmet fish market and deli. Roman Catholic and Greek Orthodox churches and European consulates can be found along İstiklal Avenue as well.
Cihangir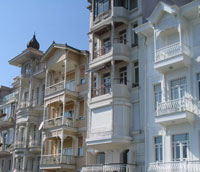 Cihangir is one of the city's oldest neighbourhoods. It was named after the memorial mosque built in Beyoğlu for the Ottoman prince Cihangir in the 16th century.

Cihangir has a bohemian air. Its narrow streets are lined with cafés, bars, and restaurants, and it has its share of galleries and studios as many artists, writers, and film actors prefer to live or stay here.
---