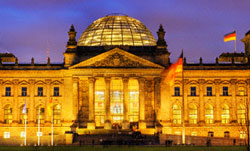 Berlin (pop: 3.4 million) is renowned as a centre of culture, media, science, and politics. The capital of Germany, it is the largest city in the country. It has a wealth of world-class universities, research facilities, and museums. It boasts a fascinating range of architecture, both elegantly historic and modern. Plenty of reconstruction continues to go on, especially in what was once East Berlin. Berlin's high standard of living along with its vibrant contemporary art scene, exciting nightlife, and highly liberal atmosphere have drawn many young artistic types to move here.

Berlin is also a great place to relax. A third of it consists of green spaces. The middle of the sprawling cityscape is rife with lush greenery, bodies of water, islands, parks, gardens, forests and hills, particularly in the Treptow-kopenick district. The Grunewald Forest with its many lakes lies in the outskirts of the city. There are even little farms complete with fields and meadows within the borders of the city.
Getting around the city is easy, because of its wonderfully efficient public transport systems. The bus and rail systems are quite extensive, and for the more ecologically-conscious, bicycle lanes are provided on almost all roads
When it comes to dining, many choices of cuisine can be found in this cosmopolitan city, but of course Berlin's local specialties are not to be missed. Spiced meatballs called Buletten and sausage with curry sauce known as Currywurst are great local favorites and Berliner Weisse beer is famous throughout Germany.
The city of Berlin is made up of 12 boroughs or districts. Each is further subdivided into several localities.
---