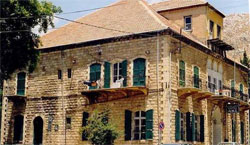 The governorate of Beqaa is Lebanon's primary agricultural centre. It is home to many historical sites, including the Umayyad ruins at Anjar, the Roman ruins at Baalbek, and the Phoenician ruins at Kamidal Lawz. The town of Kab Elias is also famous for its Roman and Druze ruins.

Other notable attractions are the UNESCO biosphere reserve of the Aammiq Wetland, and Lake Qaraoun, which was created by the damming of the Litani River to power an underground hydroelectric station.

Of religious significance are Kherbet Rouha, notable for a mosque with minaret spire that towers more than 100 metres high, and the small town of Bechouat, where a Byzantine icon of the Virgin Mary was discovered in a deep cave in 1741. The icon is enshrined in the Sanctuary of Our Lady of Bechouat, a major pilgrimage site. The church itself was built on top of the cave where the icon had been found.
Beqaa Valley, however, is most famous for its vineyards, which produce world-renowned grape varieties and wines.
---