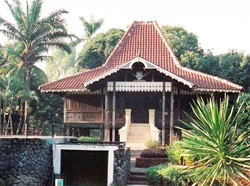 Bengkulu is the smallest province in Sumatra. The largest city and capital is Bengkulu city. The province is protected by a stretch of mountains called Buikit Barisan. It is in this dense jungle where elephants and tigers are said to still roam. The largest flower in the world, the Rafflesia Arnoldi was discovered here as well. In Tabah Penanjung, a nature reserve in Bengkulu, rafflesias can still be found growing wildly.
Bengkulu was formerly a British garrison in 1685. During this time, the British East India Company also established a pepper-mill trading centre as well as Fort Marlborough which still stands today. The British remained here for 150 years, until it was ceded to the Dutch in 1824.
Bengkulu City
Bengkulu City is the capital of the isolated Bengkulu province, southwest coast of Sumatra. It once prospered in the pepper trade under a British ruler.
The remote and quiet city is not a choice destination for tourists, though it features a few interesting historic sites. Fort Marlborough, which sits on a hill, is said to be one of the strongest British forts ever built in the East.
Curup
The small, hill town of Curup is the capital of Rejang Lebong in Bengkulu. Curup is surrounded by mountains, giving it a much cooler climate than the coastal areas of the province. The market town has a few budget hotels.
Near Curup is the Suban Hot Springs, which has constructed bathing pools, restaurants, and sitting areas, and a few waterfalls.
Tikus Island Sea Garden
Tikus Island ("Mouse Island") consists of small islands surrounded by beautiful rock formations and magnificent coral reefs teeming with abundant marine life. It is a popular site for swimming and fishing.
Cool mountain air gives a pleasant climate to Tikus Island. The island is set to be developed for marine tourism.
Enggano Island
Hills and rainforests beautifully cover most parts of Enggano Island, which lies south of Bengkulu city. The island is not much known for its beaches as it is for the traditional, matrilineal clans that reside in the region. These clans, whose settlements are spread all over the island, preserve their authentic culture, such as the Enggano dances.
Pantai Panjang
Pantai Panjang in Bengkulu has white sand and big waves that are great for surfing. Swimming is not recommended here due to strong currents. The beach, which is about 7 kilometres in length, is lined with tourist facilities such as hotels, wooden bungalows, cafes, food and souvenir stands, and sports centres.
---