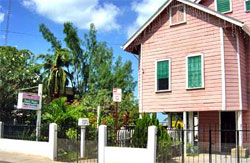 Historically, the Belize District (a prime area) was a group of riverside estates established by its first European settlers. Belize River, which runs through the region, served as an important passageway for the log export. As years past the estates were either abandoned or formed larger settlements, some of which became modern-day villages that acquired new names.

Belize abounds in mahogany and cedar. These make excellent lumber and are some of the district's exports. The rest of the region which is densely populated is covered with mangroves, palm trees, and coastal shrubs. There are also savannas and lowlands. Numerous swamps and lagoons significant to tropical birds and exotic animals such as iguanas and howler monkeys are also protected. Marine life is either promoted for tourism purposes or conserved to make biologists happy. The Mayan ruins of Altun Ha, an ancient trade centre that amaze visitors, are also found here. Colonial buildings survive here and there and traditional wooden houses remain, though modern architecture is increasing.
The district's existing population consists largely of Spanish-speaking mestizos and Mexicans. Main economic activities still largely consists of agriculture, fishing, and farming. Ecotourism is concentrated in the larger islands of Caye Caulker and Ambergris Caye, the country's top tourist sites, where most real estate developments take place. Activities that lure visitors include bird-watching, diving, fishing, and snorkelling. Residential tourism is also fast growing particularly in Belize City, once the country's capital, and the quiet riverside town of Burrell Boom. Private retirement communities have already been established and continue to attract new members.
Ambergris Caye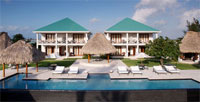 Ambergris Caye's close proximity to the Belize Barrier Reef, which was declared a UNESCO World Heritage Site in 1996, is the main reason for its success in the tourism business. It is simply the most convenient entry point and place to stay for scuba divers and tourists. The diving sites surrounding the island have been designated according to what marine life abounds in them. The Great Blue Hole and Hol Chan Marine Reserve are well explored and highly desired spots. While diving shops and resorts offer diving packages, some local fishermen trade their nets for snorkels and work as guides to supplement their income.        
The number of visitors the island receives yearly is also a big factor why real estate developments keep increasing here. Hotels, condominiums, and private villas continue to rise. Ideally, the large concentration of modern infrastructure in the town of San Pedro should mean that the rest of the island's wildlife and natural landscape would be preserved. So far, coconut palm trees and mangroves are allowed to protect lagoons and numerous bird species that nest and rest here, and coastal vegetation is left lush to keep sand intact along the western shores. If a hurricane comes from this side, there should be less damage on the island, theoretically. If there's a new resident's wish for a natural disaster, it is the annihilation of pesky bugs and mosquitoes.
Ambergris Caye has a number of resorts scattered even outside of the main town. Land properties are also divided and sold.
San Pedro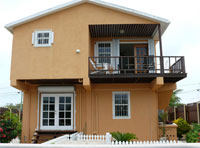 San Pedro is the main town on Ambergris Caye. It has a large Mexican population. As is common with other fishing villages in Belize, the town now heavily relies on tourism for its income. Accommodations range from guest houses to small hotels and cabana resorts lining the coasts. The community is still growing in size as more immigrants move here hoping to get better work opportunities. More guesthouses and resorts are being built.
Despite all these developments, San Pedro is still a tra      ditional village. Small, brightly painted homes line its cobblestone streets. Clotheslines exhibit the day's laundry. Neighbours chat with neighbours if they are not vending local goods or assisting tourists.
Cayo Espanto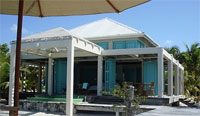 Cayo Espanto is an exclusive island resort consisting of one bungalow called Casa Ventanas and six beachfront villas: Casa Aurora, Casa Brisa, Casa Estrella, Casa Manana, and Casa Olitas. The villas' architecture and design ingeniously incorporate outdoor with indoor elements that create a sense of oneness with nature. This includes shutters and walls that, once folded, open up the rooms to the garden. Each villa has its own private swimming pool and a line of hammocks. The bungalow stands over the water and has its own dock. Each property is furnished with the best in home entertainment technology, including flat screen television sets and surround sound systems.
As mosquitoes are unavoidable, mosquito netting is a necessary feature of bedroom designs. Sand fleas and sea lice are also common, so residents or visitors go to another beach to swim or snorkel. The island is best for idle indulgence or kayaking.
Belize City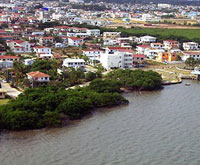 Stripped of its status as the country's capital after Hurricane Hattie devastated it in 1961, Belize City has a way of making people either love or loathe it. The older generations who witnessed the transfer of administrative power somehow passed on to the younger ones a legacy of stubbornness, nostalgia, and aggression. Residents didn't want to leave their homes and businesses so the government left them behind, together with the city's colonial architecture that withstood time and reminds one of its historic significance. Central America's oldest Anglican Church, St. John's Cathedral, was built here in 1812 and still stands. The white Government House built two years later is now an important museum.
The historic Fort George Area has a mix of old homes and newer hotels. Its most famous landmark is the Baron Bliss Lighthouse overlooking the harbour. It was named after its donor, who is buried in a tomb near its base and who was one of the country's great benefactors. The lighthouse stands proud but is a mute observer of daily city crimes involving thefts and drug dealing.
Belize City remains the country's trade centre. But parts of the town have been neglected. Dilapidated buildings sadden streets. What would lure one to live here is the considerable number of residential houses available for single family occupancy. The town has the convenience of well-stocked shops, schools, medical facilities, and the international airport.
Caye Caulker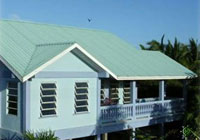 Caye Caulker owes its slower development to its lack of good beaches. While cabana-style guesthouses abound, the village council allows mangroves and coastal vegetation thrive to prevent erosion. Part of the island is also a marine reserve site. Mosquitoes and sand fleas are seasonal.