The Bauska District is found in southern Latvia. It shares a national border with the neighbouring country of Lithuania.
Bauska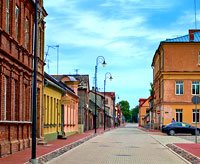 The district centre, the town of Bauska, is situated by the Via Baltic and Motorway A7. It is only some 64 km away from Riga.

The site of the town was inhabited as far back as 3,500 years ago. Bauska Castle was originally constructed in the mid-15th century, on a site where the rivers Musa and Memele converge to form the Lielupe River. The castle was rebuilt as a ducal residence in the 16th century, with its exterior and interior designed in a Mannerist style. The residence was destroyed by the Russian army in 1706. However, Bauska Castle has since been reconstructed, and now houses the Bauska Castle Museum which presents archaeological and historical exhibits.
By the early 17th century, the town Bauska had developed into a centre of merchants and craftsmen. It was in this era that the Old Town's street plan was laid out and it remains the same to this day. The Old Town's oldest building is the Church of Holy Spirit, built in 1594. The church exhibits a number of historical artefacts, including religious art and private benches made in Baroque and Rococo styles.
Following Latvia's return to independence in 1991, Bauska has experienced a spurt of construction and development, mainly infrastructure and traffic improvement projects.
---