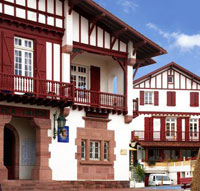 The autonomous Basque Country - Basque Euskadi - is one of the most prosperous regions of Spain. It has a population of over 2 million, about half of which live in Greater Bilbao, home to the Guggenheim Museum.

Mountain ranges effectively divide the region into three parts. There is the Atlantic basin, which has many valleys with rivers flowing from the mountains to the Bay of Biscay; the middle section, which has the high plateau Llanada Alavesa (where the region?s capital city is located); and the Ebro Valley, where Rioja wine is produced.
Most of the region enjoys a Continental Mediterranean climate, with warm summers, cold winters, and dry weather except in autumn and spring. The northern valleys, though, get a lot of rain all year.
---