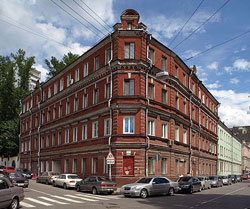 Basmanny (a prime area) is a district that consists of a number of historic sites. Baroque, Neoclassicism and Art Nouveau monuments are found throughout this area. Its Central Street was once the road to the royal country estates.

Its original quaint street plan with winding roads has largely been retained, but few of the area's structures survived the fire of 1812, and it was mostly rebuilt in the Neoclassical style. The late Baroque Apraksin-Trubetskoy Palace is among the gems that survived the fire. One predominantly Neoclassical area is Armyansky Lane, the heart of Moscow's Armenian community for many years.
The Basmannaya Sloboda area saw extensive redevelopment in the early 1900s. Many Art Nouveau and Neoclassical Revival residential buildings of 5 and 7 storeys high replaced the houses hastily rebuilt after the fire.
Though in the past Basmanny was favoured by the elite, some parts had a different character. Khitrovka was once a depressed area, home to peasants who flocked to Moscow and some gangs. Many of the original buildings are still extant though some have been replaced by college buildings.
The German Quarter has long since been vacated by Germans and is now more of a student quarter, being dominated now by Moscow State Technical University, the biggest engineering institute in Russia. It counts among its campus buildings two historic palaces.
Some important monuments in Basmanny were demolished during the Soviet era, but luckily most of the area was untouched, and many old 2-storey buildings survive. The facades of the apartment buildings facing the main thoroughfares have been preserved, though the buildings have been expanded.
---