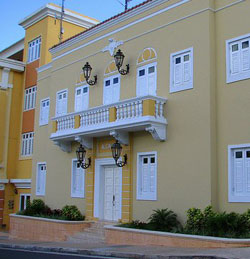 Located high in the mountains of central Puerto Rico, the town of Barranquitas is difficult to reach because of its torturous roads. Puerto Ricans visit the town to pay tribute to key historical figures who were born here.

No other town in Puerto Rico has produced quite a list of illustrious personages. The most famous Barranquiteños are Luis Muñoz Rivera, the grandfather of Puerto Rico's autonomy movement and the architect of the Puerto Rican Commonwealth and his son Luis Muñoz Marin, the first elected Governor of Puerto Rico.

A collection of letters, photographs, personal belongings, and other memorabilia of Muñoz Rivera are on exhibit at the Casa Museo Luis Muñoz Rivera.
There are few tourist sites in Barranquitas. Hurricanes, fires and mud slides have destroyed the colonial structures. Even the town's church, the Parroquia de San Antonio de Padua, is not in its original state, having been rebuilt in post-colonial style after being destroyed by hurricanes.
The only noteworthy natural wonder in Barranquitas is San Cristobal Canyon, Puerto Rico's largest canyon at 9 kilometres long and 750 feet deep. Flowing through the canyon are the Usabon and Barranquitos Rivers. Puerto Rico's highest waterfall can also be found on Usabon River.
---