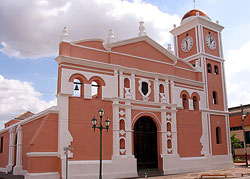 Situated in southwest Venezuela is the state of Barinas. The region is rich in rivers and predominantly flat, with the mountain of Santo Domingo sloping to the north.

The capital and administrative centre of the state is Barinas, nestled at the foot of the Andes and a short distance from the Rio Santo Domingo. It is the point of entry to many eco-tourism locations in the Western Plains, including Apure and Portuguesa, and is an eco-tourism centre itself.
There are some fine examples of colonial architecture in Barinas, such as the 1th century  House of Culture (now the City Hall), the imposing Our Lady of Pilar Cathedral on Plaza Bolívar, the Baroque San Nicolas Church, and the beautifully restored Marquis Palace.
In colonial times Barinas was the second most important city in Venezuela, producing cocoa, tobacco and livestock. Agriculture declined as the oil industry boomed. But crop farming and stockbreeding are picking up again as the region's vast savannas and pasturelands are being utilized. Barinas now produces corn, cotton, yucca, coffee, banana, rice, tobacco, and sesame. It is a cattle area, producing milk, butter, cheese and leather. Mineral resources include gold and sulphur. Forestry accounts for 20% of the national production.
---