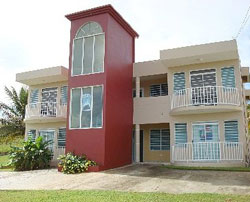 The small town of Barceloneta—named after the city in Spain—is noted for its many pineapple plantations and its beaches. While most of the beaches in Puerto Rico have white sands, Barceloneta's Playa Las Criollas and Playa Puerto de las Vacas have black sand, owing to the area's high iron content.

Changing tides have led locals to believe that the patch of land known as Isla de Roque is an island. At low tide, though, it is seen to be a part of the main land mass. The finding of petroglyphs on Isla de Roque has made it an important archaeological site. Many of the relics unearthed here have found a permanent home at the Centro Cultural de Barceloneta museum.

The Bosque Estatal de Cambalache is a nature lover's paradise. Hikers and bikers explore the 375-hectare forest through well-maintained trails.
Barceloneta's waters, however, are the town's claim to fame, and there are two ways in which they are unique. High tides and rains cause the nearby river's waters to rise, submerging the plaza and town streets for several hours. Secondly, Barceloneta has underground water reservoirs that contain the purest waters in the world. Major pharmaceutical companies have built plants in the town because the water requires very little purification treatment, and are thus excellent for use in the formulation of medicines and other drug products.
Credit to putting Barceloneta on the map goes to Sixto Escobar Vargas. The Barceloneta native was the first Puerto Rican to win the World Bantamweight Championship. In his honour, the Sixto Escobar Electronic Library was built in his original home. The Library contains memorabilia of Escobar, who was inducted into the Boxing Hall of Fame in 1950.
---