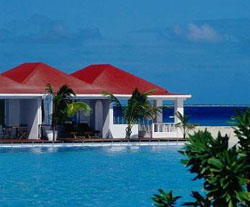 Less than half the size of Antigua, Barbuda's (a prime area) immediate appeal lies in its beautiful shorelines, lush vegetation, frigate bird colony, aqua diversity, salt ponds, and fascinating caves. Time seems to slow down a little in this area, where as roads and tracks leading to the beaches are undeveloped and public transport is uncommon. One walks or cycles to get around, or takes the boat. Barbuda's capital, Codrington, has about 1500 residents, local and immigrant. Weekend activities include camping, hiking, picnics, snorkelling, diving, and fishing.
Historic attractions abound in Barbuda. The Arawaks were the islands' first inhabitants, and traces of their settlement remain a point of archaeological interest for locals and visitors. Colonial heritage sites can also be found in Codrington.
With its local production of meat, fish, fruits, and vegetables, Barbuda is quite self-sufficient, though its income depends more on tourism than agriculture. Exclusive resorts make it a top vacation destination. A number of cottages and guest houses have also been built here. Further development has been limited to a few beaches to control the environmental problems that have arisen, such as damage to mangroves caused by waste disposal.
Codrington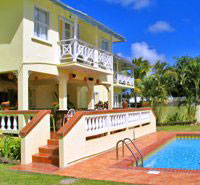 Codrington Village is a place of significant architectural interest. Named after the family that founded it, the village's highest point displays the ruins of the 18th century Codrington House. The remains of the family's castle, built in 1666 and destroyed by an earthquake, are also here. At the town centre is the Government House, built in 1694 and damaged by Hurricane Luis in 1995. There is also the Martello Tower, believed to be older than Codrington House.

Old houses, storage buildings, watch towers, and stone walls still characterize Codrington, which is accessible by plane from Antigua and is now highly populated, with an interesting mixture of races.
In some areas water is still drawn from wells. The town, however, has a modern post office, bank, police station, and an airport on Codrington Lagoon. Modern buildings such as the Carriage House are available for rent. The Frigate Bird Sanctuary on Man of War Island continues to attract visitors as well.
Barbuda is vulnerable to wind and storm surges, and Codrington is the most susceptible to floods and droughts.
Palmetto Point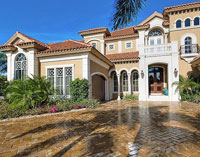 Palmetto Point is named after the thriving tropical palms in the area. It has a resort, Beach House, that is accessible via charter plane. The town boasts of fine sand ridges and shorelines and is a great location for yachting. However, erosion is frequent, a result of sand mining operations.



Gravenor Bay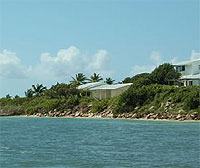 Gravenor Bay is an ideal anchorage, its reef system protecting yachts from westerly winds and waves. A mere 15-minute flight from V.C. Bird Airport in St. John's, it offers a very relaxed environment. Palm trees give shade along miles of sand that lead to turquoise waters. Sailing, windsurfing and snorkelling are popular activities here. The Palaster Reef just off Coco Point is a marine reserve site.

The town has some interesting places, including a ruined pier near the bay's centre and the unoccupied eastern area of Spanish Point where Arawak Indians are believed to have settled once. In the west is the exclusive and family-owned Coco Point Lodge. Housing is divided among the Main Lodge, Highland House, Hill House, Gravenor Bay, Palaster Reef, Martello Tower, Spanish Point, and Sea Crescent cottages, each with a veranda overlooking the bay.
---