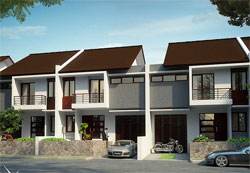 The province of Banten is one of the richest and youngest provinces, only established in 2000. Ethnicities in the area are mostly Bantenese, Sundanese and Javanese. The area was a large trading port in the 16th and 17th centuries, some say almost as important as Amsterdam. Now Banten, whose capital is Serang, has turned into a quiet village but with old buildings scattered around town as a quiet reminder of the area's glorious past.
Despite being about an hour-drive from grid-locked Jakarta, Banten is a quaint and very charming place with beautiful historic sites. Jewels such as Surosowan and Kaibon Palace, and Masjid Agung Banten (Banten Great Mosque) are must sees in this area.
The Surosawan Palace was built in the 16th century and used to cover 30,000 square metres of land. Much of the area is in ruins but for those who have a keen eye, it is easy to imagine the Palace in its former glory. There is a museum out front that exhibits things dug up during its excavation. The Kaibon Palace is a little newer than the Surosawan Palace in that it was built early 19th century, covering 15,000 square metres of land. Today, all that is left are walls, foundation and the main gateways.
The Masjid Agung Banten is included as one of the stops in Indonesia's Moslem pilgrimage. Said to be built by a Chinese Muslim in 1566, it is a great piece of architecture with a 5 layered roof that hints of early Hindu influences. There is also an 8 cornered minaret that looks like a lighthouse and is visible from all over the local grounds.
Ujung Kulon National Park is an isolated island with deer, river otters, crocodiles and many other creatures. It was put up by the Dutch in 1921 to protect the endangered Javanese Rhino.
Anyer Beach is a favourite spot for those coming from Jakarta as it is accessible via the toll road. Beach activities here are endless: water sports, sunning, swimming and relaxing.
Serang
Serang was made Banten province's capital in 2000. This administrative city of the district also named Serang has hotels, restaurants, and places of entertainment. The densely populated city is surrounded by industrial centres Lebak, Celigon, and Tangerang. Serang has a rather unpleasant reputation for its crime rate.
Anyer Beach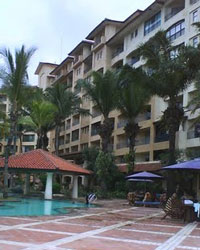 The beach town of Anyer in Banten province was once an important Dutch port, before it was washed out by tidal waves brought by the eruption of Krakatoa (Krakatau). The white iron lighthouse, which is the most prominent architecture in Anyer, was built by Queen Wilhelmina of the Netherlands in memory of those who lost their lives during the disaster.
Anyer Beach is an overdeveloped, upmarket town, with semi-luxurious hotels and fine cottages. The beaches are good and get can easily get crowded. Anyer Beach enjoys a view of Mount Krakatoa.
Dua Island
Pulau Dua ("Bird Island"), located in the Banten province, is a nature reserve site for migratory, nesting, and resident seabirds, and has the largest waterfowl population in Java. Herons, egrets, ibis, bitterns, pelicans, storks, teals, and kingfishers are only a few of the numerous species found here.

Pulau Dua, or Dua Island, is thickly forested with mangroves on the northern part. The central parts are dominated by beach hibiscus, wild almond trees, and other tropical trees and shrubs.
Bojonegara
Bojonegara, Serang in Banten province is undergoing major developments as it was chosen by the Iranian government to be the site of a multi-million dollar oil refinery. The project is a move to expand ties between Iran and Indonesia, and to supply the latter's demand for oil. The refinery is planned to produce 200,000 barrels of oil per day.

Bojonegara will soon have an international harbour that will help ease the trade volume in Jakarta's Tanjung Priok. The project is planned to have five terminals, which includes Ro-Ro, container, dry and liquid bulk, and multipurpose services. The construction was begun in 2003, and put on hold due to conflicts between the government and private investors. A free trade industrial zone around the port is planned to be constructed when the project resumes.
---