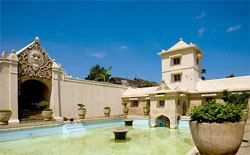 The regency of Bangli (a prime area) is one of the few areas in Bali that is landlocked. This highland territory located on a small inactive volcano Mount Batur was once the capital of the Madjapahit Kingdom in the 13th century.

Pura Kehen, the state temple of Bangli, is a product of this heritage. Located on a hillside, a great flight of steps leads one to a beautifully-decorated entrance. The inner courtyard has a shrine composed of 11 roofs and intricately carved thrones for the Hindu trinity of Brahma, Vishnu and Shiva.

Bangli is said to have the best climate, but the area remains untouched by tourist development. Nevertheless, it plays an important role in Balinese economy.
On one hand, its rice-growing villages serve as Bali's agricultural base; these farm lands comprise about half of Bangli territory. On the other, its manufacturing industry supports tourism. Bamboo, wood, and metal crafting, as well as its garment businesses employ thousands living in these small villages. Among its popular are bamboo bags, mats, metal keris, brass and silver accessories and Arabica coffee.
Pura Kehen
Pura Kehen, Bangli kingdom's state temple, is the most impressive Buddhist temple in East Bali. It sits on a hill overlooking Bangli City and rises into terraces, with 43 shrines in all. A flight of hillside steps lead to the temple's gate, which is intricately decorated and guarded by wayang statues on each side. Its shrines and courtyards are backed by forests and shaded by large trees. The inner courtyard has a multi-roofed shrine, which houses the thrones of Brahman, Vishnu, and Shiva, the Hindu trinity god.
Kintamani
Rice plains and lava stones add interest to Kintamani, a popular tourist destination in Bangli. The village lies on the edge of the active volcano, Mount Batur, and enjoys a dramatic view of Lake Batur. The area is rich in orange and pineapples, and the lake provides the tasty mujahir fish, a local favourite.
Kintamani's two popular resort villages are Toya Bungkah and Penelokan. Toya Bungkah features a public bath fed by natural hot springs, and a posh spa resort, the Torya Devasya with villas and infinity pools, surrounded by beautiful gardens. Penelokan provides a panoramic view of Mount Batur. Both villages can get pretty crazy with tourists and locals negotiating accommodation rates.
From the main road, one can see the imposing Pura Ulun Danu Batur, second in religious importance after Besakih, the "Mother Temple" located in Bali. Pilgrims visit the temple daily, to honour and offer prayers to Ulun Danu, the crater lake goddess.

Penglipuran
Penglipuran, situated in Bangli Regency's Kubi Village, is a traditional village said to own an authentic Balinese culture. This is due to the residential architecture, which is of the Bali Aga tradition: each house is made entirely of bamboo materials and consists of several enclosed units, and sits on stone platforms.
 The typical house has a main entrance, a living area (Bale Dauh), sleeping quarters, a family temple (Sanggah), a ceremony unit (Bale Sakenem), separate storage for food and for ceremonial items, and a kitchen and services unit. The building units or pavilions are arranged in a linear manner.
Houses are surrounded by lawns and fields, and each is really quite amazing. Adding attraction to these tall residences are the bamboo forests surrounding the elevated village, and the cool atmosphere it enjoys.
---