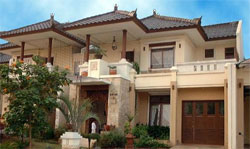 The province of Bangka-Belitung Islands includes two main islands, Belitung and Bangka and several smaller ones. These islands are the largest producers of tin in the country. The capital of Bangka and Belitung is Pangkal Pinang.

Beaches found in the province, such as Matras, Parai, Tanjung and other vacation spots attract visitors worldwide. Being the newest province in Indonesia, it is largely undeveloped. But because of its accessibility of location between other major islands, and rich natural resources, we will most likely see development in this area in the future.
There are small villages on the island, such as Giri Jati village, that remind visitors of Bali, imbibing the countryside and atmosphere Bali is so well known for.
Pangkal Pinang
Pangkal Pinang (Pangalpinang) is the largest town in Bangka Island and the capital of Bangka-Belitung province. The town is one of the key ports in the Java Sea, exporting grade-A tin, fish, and copra among others. Deep-sea fishing is an important activity for its residents.
Few remnants of Dutch colonial architecture can be found in Pangkal Pinang. There is a Chinese temple and a tin museum as well.
The laidback and pleasant town of Pangkal Pinang is known to tourists for its seafood restaurants.
Bangka Island
Bangka Island (Pulau Bangka), which lies east of Sumatra and separated by the Bangka Strait from the mainland, has a rather interesting seahorse shape. The island joins Belitung Island to make up the province of Bangka-Belitung, whose capital is the large town of Pangkal Pinang.
Bangka Island attracts visitors to its quiet, white-sand beaches on the northeast coast. The most popular swimming resorts here are Matras Beach and Parai Tenggiri Beach.
The sloping, sandy Matras Beach, located in Sinar Baru village, is considered the loveliest beach in Bangka Island. It has towering coconut palm trees, beautiful rocks, and many streams. Parai Tenggiri, once known as Hakok beach and is most popular to locals, has a four-star resort hotel, the Parai Beach Resort. There is a restaurant, bar, cafe, swimming pool, and sports facilities.
Belitung Island
Belitung Island (Pulau Belitung) joins its neighbour Bangka Island to make up Bangka-Belitung province, separate from Sumatra. Belitung has great beaches, but for some reason, it does not attract many tourists, making the island largely undiscovered.
Tanjung Pandan is Belitung's capital, and like Pangkal Pinang in Bangka, it is a large producer of tin.
The most gorgeous beach in Belitung Island is Tanjung Tinggi, with its pure white sand and pristine blue and turquoise waters. Tanjung Kelayang is an attractive beach surrounded by small islands. It features a rock that resembles a bird, from which it got its name (Kelayang, means "a kind of bird species"). The beach has a few basic cottages with verandas. The beach is peaceful on weekdays, and comes alive on weekends with food and drink stands that serve day-trippers.
Burung Mandi village on the east coast has a beautiful swimming beach, which is unique in the island as it is backed by Mount Burung Mandi, and does not feature any granite rocks. The long sloping sand is bordered by pine and coconut palm trees.
---