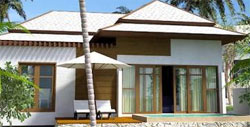 Bang Rak, (a prime area) which means "village of love" in Thai, is one of the busiest and most well-known commercial districts in Bangkok. The old neighbourhood is an interesting blend of the upscale and the substandard, merging eastern with western influences. Foreign embassies are prominent, as well as Muslim restaurants and tacky trade shops. Some decrepit buildings are left abandoned, while renovated old ones now house many jewellery stores and antique shops.
With Buddhist temples being a common sight in Bang Rak, the Assumption Cathedral stands out. Thailand's chief Roman Catholic Church was completed in 1821 during King Rama II's reign. It was renovated in its current Romanesque style in the early 1900s.
Another building that's very prominent on the Bang Rak skyline is the posh, golden-domed, 68-floor State Tower. This massive building has space for 650 condominiums, 500 services apartments, 90 retail spaces and 460 offices.
Two of Bangkok's most important commercial districts are in Bang Rak: Silom (Si Lom) Road and the Riverside. Silom Road is known as the gem-trade district, while the Riverside boasts many grand hotels and fine shopping. The red light district of Patpong adds some notoriety to Bang Rak.
Silom Road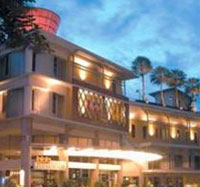 Silom Road, one of Bangkok's most cosmopolitan streets, has some of the highest-value properties in the city. Skyscrapers, business hotels, and office buildings are found here. It is Bangkok's major financial and corporate centre.

Bangkok's second highest building, the State Tower, is easily recognizable by its golden dome. It has a five-star hotel, a revolving rooftop restaurant, and hundreds of residential and office units.
Silom Road is Bangkok's gem-trade district. Jewellery stores are among the many shops along its stretch. Silom Village is a complex of teak houses with a restaurant and an open courtyard that functions as a cultural centre.

Silom Road is not particularly stunning, but it has Bangkok's most vibrant nightspots. From night markets to strip clubs, there is a little bit of everything for everyone here as Silom provides easy access to the red-light district of Patpong and Thanon Thaniya, known as Little Tokyo.
The downside of the district is its terrible traffic, one of the worst in Bangkok, as it is close to another main business district, Sathorn. Luckily, nearby Lumpini Park provides a space to breathe, a relaxed haven with a garden, lake, and jogging paths.
Riverside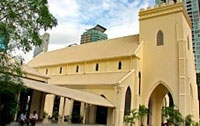 Bang Rak's Riverside has a well-developed lane with a hint of the past evoked by old wooden houses, antique shops housed in the 19th century Oriental Plaza, and European-style embassy buildings.

The Chao Phraya flows along the western side of the well-named Riverside. While no longer Bangkok's main gateway, Chao Phraya has maintained much of its charm. Some of its canals are being reclaimed and developed.

Riverside is a popular development site for major establishments and properties. Grand luxury hotels have made it their domain. Prime condominiums rise along the lane parallel to the river. Most properties have riverside views, and private boat services are available.

Shopping centres housed in neoclassical buildings can be found along both sides of Charoen Krung Road, which runs parallel to Riverside. The area was the first trade centre of Bangkok, and the shops belonged mostly to the Chinese who settled here. Charoen Krung Road retains the vibe of the old town despite the many upscale shops that have sprung up along it.
---