The Balvi District is located in the Latgale region of eastern Latvia. It shares a national border with Russia.
Balvi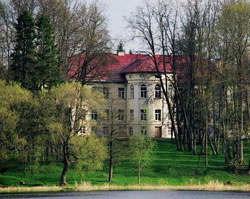 Its district centre is also known as Balvi. The town is small, lovely, and refreshingly green. It is enclosed by two lakes and also straddles the Bolupe River. The lake may have provided the town with its name. However, some have surmised that the name is derived from the word balva, which means "gift." A third hypothesis postulates that the name of Balvi commemorates Baal, an ancient deity of rain, thunder, fertility, and agriculture.

Balvi lies in an area rich in forests and marshland. It was first mentioned in historical chronicles in 1224. For centuries it was a simple village and it was not until 1928 that it was granted the status of a town.
Balvi suffered greatly in the World War II. In 1941, most of the town was destroyed in a conflagration. As a result, most of the local architecture is of recent vintage. But some historical places survived, such as the 200-year-old Balvi Roman Catholic Church with its untraditional design that evokes a Russian Orthodox Church but with only a single central cupola.
Another historic building here is the old manor house, now serving as a primary school. It was originally built in the late 1800s, but having burnt down twice, the current structure is more of a reconstruction. It is an important cultural institution, as it hosts the annual Festival of Chamber Music every July.
The Balvi Evangelical Lutheran Church is also worth noting. Dating back to 1914, the church houses several prestigious historical keepsakes and artworks. Another building of artistic significance is the Balvi Town Council Building, where visitors can gaze at marvellous tapestries and ceiling art that bring to life traditional Latvian folk songs.
---