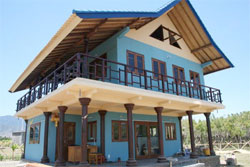 Known for its white sand beaches, surrounding coral reefs and distinct local culture, Bali (a prime area) is arguably Indonesia's most popular tourist destination. Decades ago, Bali's economy was solely dependent on agriculture, however, its burgeoning tourism industry which lures thousands of foreign visitors, has made it one of the wealthiest regions in the country.

Navigable mainly by cars and smalls boats, a trip around Bali will reveal an exciting blend of posh modernity and the pervasive Balinese culture.
One may opt to visit a hot spring or go to a one of Bali's many spas. For those looking for an outdoor adventure, white water rafting, scuba diving, surfing are just some of the options.
Bali international cuisine is also worth mentioning. Due to its international tourist base, a variety of cafes and restaurants that serve international cuisine abound. Aside from fast foods, local restaurants also cater to its international crowd. One may opt to buy from quaint tokos (shops) which serve delicious local fares like the kaki lima, which literally means "five legs" or hot soup dishes. However, Balinese cuisine can be very spicy, which is typical of all Indonesian cuisine.
About 80 per cent of visitors who come to Indonesia go straight to Bali to experience Balinese culture. Dance performances that portray Hindu epics such as the Ramayana, infused with Balinese culture, are usually accompanied by a local percussion instrument called the gamelan.
Festivals are likewise common in Bali. Because there are around 20,000 temples in the island at least two festivals are celebrated in a year. These festivals showcase processions, purification rites, and offerings. Uluwatu, Bali's most popular temple, sits majestically on a cliff, while Besakih is located in the slopes of Mount Agung.
Referred to as the "island of the Gods", Bali truly is a paradise. With its great beaches and a backdrop of rich cultural heritage, it is not hard to see why it is a unique attraction.
---