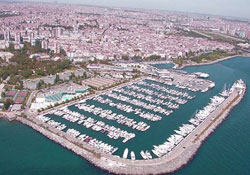 Bakırköy is an overcrowded district near the E5 main road and the Sea of Marmara coast. Just like its neighbouring districts, it is populated by the middle class, including merchants, bureaucrats, and government retirees.

Before the 1970s, the entire district was once a very desirable investment property hotspot, primarily because of its railroad connection to various parts of Istanbul. However, most of the district's major sections lost their luster over the years, as population grew exponentially and the lack of housing spaces required major construction. Wide roads and stylish mansions were replaced by congested apartment blocks. These tightly packed places leave no room for the development of activity centres, car parks, and playgrounds.
Thankfully, there are still some parts of Bakırköy that remain pleasant residential areas, particularly the town of Ataköy, which even has a yacht dock and a galleria.
Though the district is no longer a major residential hub, it is regarded as an important commercial district. It has cinemas, bars, bistros, and huge shopping centres, including the popular Carousel.
Ataköy
Established for the middle-class, Ataköy in the Bakirköy district is one of the largest and oldest residential block neighbourhoods in Istanbul.

The Ataköy Tourism Complex is a massive waterfront project integrating residential and commercial use. The 5-star Crowne Plaza Hotel has 298 rooms, indoor and outdoor swimming pools, a fitness centre, a sauna, and tennis courts. Adjacent is the 4-star Holiday Inn Marina, with 173 rooms, a restaurant, and an outdoor pool. Currently there are four 18-floor apartment hotel blocks being planned in the complex.
The Galleria Shopping Mall is Turkey's first modern shopping centre, gathering international fashion brands, cinemas, specialty stores, food courts, an ice skating rink, bowling alleys, business services, and conference halls under one roof.
The 1000-slip Ataköy Marina, built in 1988, is Turkey's first commercial marina and has been noted for its excellent facilities and services. The Yacht Club, completed in the same year, organizes races and offers sailing classes.
Ataköy is also home to the Sinan Erdem Dome, Turkey's largest indoor sports arena.
---