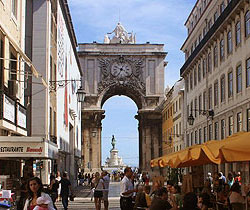 Completely rebuilt after the Great Earthquake of 1755, Lisbon's downtown district of Baixa is Europe's first great example of neoclassical design and urban planning.

Stretching from the riverfront to the main avenue (Avenida da Liberdade), Baixa has remained Lisbon's main shopping and banking district without losing its old-time charm. Its streets are laid out in a grid system, so getting around is easy. The pedestrian-friendly streets are full of elegant public squares, cafes and shops with Art Deco storefronts, old tramcars, street performers and vendors.

The avenue ends at the roundabout at Marques de Pombal Square, on which stands a monument to the man who led the rebuilding after the earthquake and made Baixa a district-wide testament to the Enlightenment. Sloping up from the monument is Lisbon's largest park, the Parque Eduardo VII. There's a great view of the city from this park. Its greenhouses shelter plants from all over the world.

Don't expect to find high-rises in Baixa. Properties for sale here are usually old apartments, and although interiors can easily be renovated, farades must always be preserved.
---