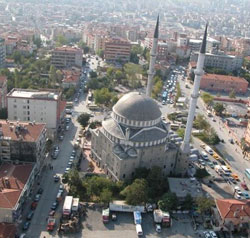 Lying on the European side of Istanbul, the suburban district of Bağcılar District is occupied mainly by the working class and some poor migrants from the Anatolian region. Many of the homes here were either illegally built or constructed without adequate building regulations. The simple and undecorated structures, cramped along very narrow streets, are occupied by young and poor families from the provinces. Bağcılar's crime rate is also higher than that of the other districts in the city.

Since the district is filled with poorly developed residential buildings, the city council is finding it hard to set up the necessary social amenities. However, just like other parts of Istanbul, Bağcılar also has its fair share of industrialization. Some of the country's biggest TV broadcasting companies and newspaper firms are here. There is also a huge dry goods wholesale market and a thriving second-hand car market.
There are no parks, shopping malls, or cinemas in the area, but traffic in this side of the city can get heavy. The only notable spot here is the Olympic Sports Complex.
Göztepe
Göztepe is a small residential neighbourhood in İzmir. Turkey's first toy museum was established here by the poet and author Sunay Akın in his own family villa and featuring his own collection of toys.
Göztepe's main street has an array of American and European fast food outlets, bars and restaurants, fashion stores, and home décor stores. Göztepe Park has a colourful rose garden and children's playgrounds.
---