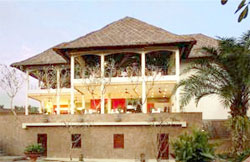 Badung, (a prime area) which lies in the middle of Bali Island, is shaped like a keris, an asymmetrical dagger indigenous to Malay countries known to contain a spirit. This unique form has become a symbol of the regency and the spirit, the base of the district's motto. Many of the locals living in this area work in the agricultural, trade or services area, mainly from the tourism sector.

While the regency is small in size, it is the most densely populated area in Bali as includes Bali's capital, Denpasar. All major administrative government offices are here. Hippie commutes are here, as are major tourist resorts and high-end luxury hotels such the Club Med, the Hilton and the Hyatt. It is the most popular area for visitors. Those visiting here will most likely go to one, if not all of the major hotspots of Kuta, Legian, Seminyak and Jembaran.
The beaches here, particularly in Suluban, Bingin and Labuhan Sait, beckon to surfers, while local cultural curiosities beckon meandering tourists. Pura Luhur Uluwatu temple is here, as is the tallest statue in the world, the Garuda Wisnu Kencana. There are hundreds of souvenir shops found on the famous Legian Street.
Nusa Dua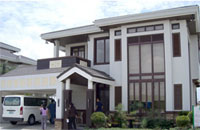 Located 40 kilometres southeast of Bali's capital is the Nusa Dua peninsula, an enclave of international hotels. Purposely built as a high-end tourist destination in the 1980s, it showcases a blend of luxurious modernity, natural picturesque beauty and indigenous cultural charm.

Five-star resorts that offer posh amenities such as golf courses, spas, and pools have sprung up in the last two decades due to the area's burgeoning tourism. Galena, a large open-air shopping mall, satisfies locals and tourists with its more than 80 shops selling high-quality items at fixed costs.
Nusa Dua's white sand beaches and sparkling blue waters lure local and international tourists alike. Nusa Dua, however, is not only a water sports and surfer's paradise. Dreamland, its most popular beach, is ideal for families with children because its waters are shallow and lifeguards patrol the beach.
Palau Penyu or Turtle Island is one of Nusa Dua's popular nature trip stopovers. As the name suggests, many looking to experience local wildlife adventure may hop from one turtle conservation home to another and venture to see other species such as bats, snakes, and birds.
Part of Nusa Dua's cultural appeal lies in the multi-denominational mosques and temples found in Tanjung Benoa in the northern vicinity of the peninsula. These sacred places stand as testimony to Nusa Dua's rich ethno-religious history. Moreover, cultural shows and local arts festivals held at venues like the Chandra Koka Amphitheatre and the Nusa Dua Arts and Cultural Festival ensure the continuity of its heritage.

Seminyak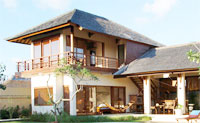 Both a tourist and residential area, Seminyak is not as noisy as its more colourful touristy counterparts. It is in the southern part of the regency, where some of the nicest beaches are. The duet between its famous sunsets and tranquil beaches is the reason why many ceremonies take place here, amidst the backdrop of soft gamelan music. Of all areas in Bali, Seminyak ranks high in laidback sophistication.
Villa living here is prominent with expatriates, driving up the prices of accommodations and land. The streets are lined and clustered with luxurious places: hotels, spas, shopping boutiques, restaurants and bars. One such bar and restaurant is Ku de Ta, a sophisticated hangout with a cult following. It sits on the beachfront, which lends to it a pseudo-resort atmosphere and hip and chill party scene.
The beaches, particularly in Petitenget, are beautiful long expanses of black sand. It is a great place for those looking for some quiet, uncrowded alone time with the sun and sand. The sunsets along this strip are legendary, and restaurants with a commanding view of this sunset usually require reservations for window side dinners.

Legian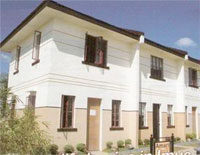 The highly accessible beach town of Legian is popular to tourists and has accommodations devoted to them. From hotels, getting to the beach or to shops and restaurants and night clubs is a matter of stepping out of one's hotel and walking a few metres. There is no proper road in front of the stretch of hotels; the paved pathway gives guests ample leg room to hop from one place to another.

Should the United Nations ever have its own beach, it would look somewhat like Legian beach. People watch along the sands here and for sure you will see vacationers from other countries. Legian beach is a popular surf spot, so wetsuit clad bodies running around with surf and boogie boards in tow are a common site. For non-surfers, sunning on the sand while getting a manicure, pedicure, and "Bali braids" are just as popular choices, as are massages, reading and playing football. During weekend evenings, there are fire dance performances, lively music, and great people just having a good time.
In the area are streets full of boutiques specializing in variety of different things – from clothes, to furniture to lifestyle goods. There are also excellent restaurants to choose from straddling all prices, from economical to expensive.

Jimbaran Bay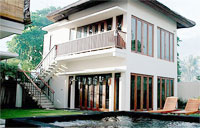 Jimbaran Bay is a celebrated tourist spot in the south of Bali. Its location is superb – a grand sweeping bay of fine white sand beaches, calm waters and spectacular sunsets. The hills of Tabanan can be seen from this point on a clear sunny day.

The development of this village has been previously overlooked when Indonesia was building other nearby areas like Nusa Dua, but Jimbaran Bay has undergone impressive growth in the last decade. A number of high-end hotels have already been built and seafood restaurants continue to sprawl in its beachfront.
Despite these developments, Jimbaran Bay remains a place of deep spiritual significance to the local Balinese people. The village is also renowned for the Barong dance staged by residents who enter into a trance during performances. At the heart of the village, set on its own grounds is the 17th century Ulum Siwi Temple which recreates a strong sense of religious sentiment at the time it was built.

Kuta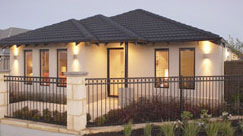 Kuta is the most commercialized area in Bali. A stone's throw away from the airport, its 5 kilometre stretch of white sand beach is a favourite destination for travellers on a shoe-string budget. While its waters may be a bit tricky for swimmers due to its current, it has always been a popular surfing destination.

>Kuta is among the most congested areas in Bali. Pedestrians swarm alleys like Poppies Lane 1 and 2 where bustling souvenir shops and retail store are located, while lined up along its other inroads are a variety of restaurants, bars and clubs visible in any tourist spot such as this. The flurry certainly extends to its long sandy beach where trinket sellers and masseuse compete for customer attention.
Legian Street which runs perpendicular to Kuta Beach, remains sombre. One can find a marble memorial that bears the names and flags of those killed in the bombings of 2002 and 2005.
This prompted the annual promotional event called Kuta Karnival. Originally conceived to help rebuild infrastructure and re-establish local tourism, it brings together companies, embassies and organizations. It has now evolved from mere commemoration to a fun, informative and encouraging event that is aimed at showcasing the resilience of Balinese spirit to onlookers.
---