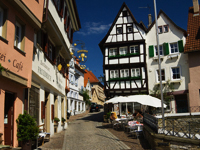 Germany's third largest state, Baden-Württemberg has a picturesque unspoilt landscape consisting of low mountains and lush woods, including the famous Black Forest. There are also many lakes and ponds, plus thousands of nature reserves.

Remnants of the Roman conquerors and ancient royalty of Germany abound in this state. Historic palaces and castles can be found dotting the terrain. This state is particularly known for its spa towns which have kept their traditional character.
Baden-Württemberg is quite rural, yet it is home to many large industries. It is an exceptionally safe place, with very little crime and excellent social infrastructure. Families, senior citizens, and minors are given plenty of assistance by the state. In a 2006 survey conducted by McKinsey, Stern magazine, ZDF and web.de, it was found that 80% of Baden-Württemberg residents were satisfied with their quality of life in the state.
The state is one of Germany's main tourist destinations, attracting over 40 million tourists a year. Apart from its natural beauty and its historic monuments, it offers plenty of cultural and culinary pleasures. Theatres, dance companies, orchestras, opera houses, and museums can be found in its towns. Stuttgart, its capital, is particularly known for its ballet company and State Opera.

Quaint folk cultural practices come alive during the unique festivals, such as the Swabian-Allemannian Fasnacht spring festival, during which the turning of the seasons are enacted in traditional masks and dress. There are also vibrant festivals that centre on wine, which this state is known for. Parks, zoos, wildlife reserves, and adventure pools offer enjoyment as well.
---