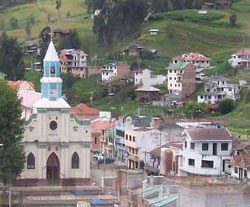 Azuay is the southern rival of Manabí and Imbabura, the two other provincial crafts giants of Ecuador. A prominent tourist centre, Azuay's trump card is Cuenca, which many find even more fascinating than Quito and Guayaquil. Though Cuenca's nightlife might not be as active as Quito's, it has a greater number of the country's major universities. Cuenca is also the only city in Ecuador whose colonial district can rival the renowned charm of Old Quito.

Another of Azuay's treasures is the 29,000-hectare Cajas National Park, which has also become something of a pilgrimage site after reports of the apparition of the Virgin Mary on its very grounds. Now, the Virgen del Cajas draws thousands of visitors to the park every year. The park boasts of more than 250 placid lakes and about 125 different species of birds.
Cuenca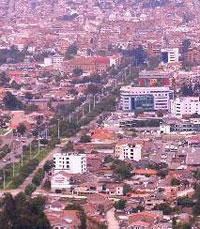 Rich in artistic and intellectual tradition, Cuenca has been the birthplace of many of the country's eminent poets, philosophers, visual artists, politicians, and writers. Cuenca is the third major city in Ecuador after Quito and Guayaquil, though many prefer Cuenca over the first two in terms of grandeur and overall beauty.

Most of Ecuador's signature straw toppers are made in Cuenca. Panama hats can be bought in the city's Thursday market, along with other local handicrafts. Cuenca's massive crafts and Panama hat production makes it the economic centre of the southern sierra region.

Cuenca's Old World atmosphere is created by its pre-colonial 14th and 15th century architecture, including Baroque and Romanesque churches. Its buildings have colourful wrought-iron balconies, red-tiled roofs, and beautifully carved wooden doors.
Its museums also preserve the traditions and styles of days gone by. The Museo de las Conceptas exhibits the finest religious art in the city. Contemporary Ecuadorian art is displayed in the Museo Municipal de Arte Moderno. The Museo del Banco Central and the Ruinas de los Todos Santos will both help visitors get acquainted with the region's interesting past.
Park Abdon Calderon is the city's well-loved central park. It is flanked by Cuenca's most famous churches, the blue-domed, neo-Gothic "new cathedral", the Immaculate Conception, and the restored "old cathedral" of El Sagrario. Cuenca has 52 churches, said to represent all the weeks in a year.
Cuenca has a lot of luxury travellers' accommodations, from beautiful and somewhat pricey converted colonial mansions to modern, ritzy hotels. The backpacker on a shoestring budget can easily choose from the city's more affordable hostels. Cuencaños are known to be foodies, so expect great gastronomic fare, including traditional Ecuadorian dishes, French and Italian cuisine, and tasty vegetarian food. Cuenca's upscale bars and discos play international and Latino music all night long.
What's great about sierra cities is that each one has a hill that lets you view the entire city in its nighttime glory. Mirador Turi will give you the best panorama of Cuenca. Be sure to arrive before sunset and witness the pink and purple sky gradually darken and the stars come out.
Cuenca's visitors should be wary when walking around El Puente del Vado and Mercado 9 de Octubre, which are both regarded as unsafe.
Gualeceo
East of Cuenca is the small town of Gualeceo, whose modernity is contrastingly complemented by the beauty of its landscape and colonial buildings. The town produces fine-quality ceramics, embroidered and woven textiles, and leather goods.
Chordeleg
Chordeleg is a famous for its fine merchandise of silver pieces, gold filigree, Panama hats, wooden crafts, pottery, woven and embroidered textiles. The village has a small museum called Museo de Comunidad that also sells local textiles, ceramics, and straw work at affordable prices.
---