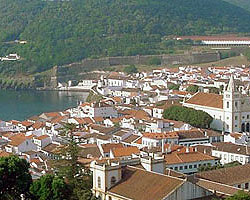 A group of nine islands stretched over several hundred nautical miles in the Atlantic Ocean, the archipelago of the Azores is an autonomous region of Portugal. Although farming and fishing are main industries within the islands, tourism and property investment have become important as these islands are considered among the world's most beautiful.
 
The islands are divided into three groups: São Miguel and Santa Maria in the east, Terceira, Graciosa, São Jorge, Pico, and Faial in the centre, and Corvo and Flores to the west. Culture, cuisine, and traditions vary from one island to the next, although most would agree that there is an unspoilt and quaint European character common to the islands.
Getting around the Azores is easy through the international airports in Santa Maria, Ponta Delgada, and Angra, as well as through inter-island flights and ferryboats.
 
The Azores has a varied and often dramatic landscape, as it was created by volcanic activity millions of years ago. Many visitors are enamoured of the jewel-toned lakes, fertile prairies, interesting volcanic cones and craters, and the 15th century churches and manor houses that give the region a calm-inducing atmosphere. The dewy spring-like weather present all year-round is also a definite advantage. With a relatively small population (only about 250,000 people) in such a peaceful setting, living here would mean a stress-free and relaxed existence.
Perhaps the only drawback is the islands unstable geology, and although the earthquakes and volcanic eruptions may be unsettling to newcomers at first, these occurrences do not really disrupt the serene way of life here.
 
The capital of the Azores is Ponta Delgada on the island of São Miguel. It lies between the mountains and the sea and is protected by a port. The buildings, streets and sidewalks built with volcanic rocks lend an air of rustic elegance to the city. Like most cities, there is a church in its town square, now the striking Museum of Carlos Machado in the Convent of Saint Andrew.
 
The municipality of Angra do Heroísmo (Angra), is situated on Terceira Island and has a small local population. Little has changed in this area's architecture for centuries, and many old homes with their distinctive windows have been preserved. These traditional windows are made of beautifully arched stone and colourfully painted window panes, adding bright touches that make for a pretty picture. Another attraction would be the 17th century castle of Saint John the Baptist (São João Baptista) that overlooks the bay.
 
Also known as Ilha Azul (Blue Island) for its hydrangeas, Faial is very picturesque. Its main city, Horta, is a yacht harbour, and is also known for the beautiful tiles and gilded carvings in the 17th and 18th century churches of São Salvador, Nossa Senhora do Carmo and São Francisco. Faial's old port, Porto Pim, would be an excellent choice for whale watchers to set sail from.
 
The imposing Pico Alto Mountain gives its name to Pico, a scarcely populated and largely unspoilt island in central Azores. Like San Miguel, Pico has a volcanic heritage evident in the black lava stone construction present everywhere. Tourists come to Pico to enjoy its swimming holes and some sandy beaches, but it's mostly known for its whale-watching tourism. Getting around the island is easy, as Pico has a very good network of roads.
---