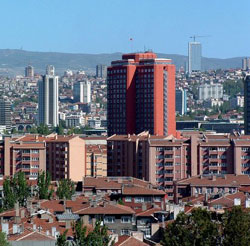 The district of Avcılar is a place of contrasts. What was once a small fishing village near the shore of the Sea of Marmara has transformed into an industrial, highly residential community. However, the majority of the estates here are unattractive cooperative housing projects occupied by Istanbul's poor and needy.

The heart of the district and the inland villages are much more developed than the coastal areas. They are suburban areas with somewhat more expensive residential properties that belong to the city's middle class. The centre of Avcılar also has cafés, cinemas, and a shopping area.
Merchants selling goods along the sidewalks of narrow streets are a common sight during the day. At night, the area's bars and pubs come alive with young people hanging out and dancing to traditional Turkish music.
Beylikdüzü
The seaside town of Beylikdüzü is a growing middle-class area on the rise and a popular choice to host trade fairs. Most residents work in the manufacturing or service sectors and the nearby commercial harbour, Kumport. Buildings and factories are rising in areas like Büyükçekmece. The trains and the metro also pass through here, making it very accessible from the city centre.
Beylikdüzü has three universities, major hospitals, and two shopping malls. It is close to sports clubs, golf courses, the airport, and the Marmara coast.
---