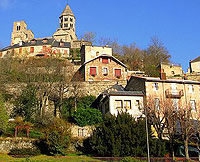 Auvergne has long, snowy winters and hot, dry summers. It is a mountainous region, noted for its green-capped dormant volcanoes that rise nearly 2000 metres above sea level and are older than the Alps. The natural scenery is magnificent, from the striking volcanic terrain to verdant forests and exquisite lakes.
It is an excellent environment for fishing and other outdoors activities. Skiing is popular in winter. Hot and cold springs attract visitors. Castle lovers will seek out the Historical Road of the Auvergne Châteaux. Those who love picturesque towns will enjoy visiting the commune of Le Puy en Velay and several other Haute-Loire villages.
Auvergne is relatively remote, and the region relatively unaffected by tourism.
The region is also known for its cheese production, which accounts for one-fourth of all AOC cheese production in France. Bleu d'Auvergne ("Auvergne blue cheese") and Roquefort are the region's best-known cheeses.
Clermont-Ferrand, the capital of Auvergne, hosts a renowned International Short Film Festival, second only to Cannes as the most attended film festival in France.
The city is surrounded by a volcanic range, the Chaîne des Puys, consisting mainly of cinder cones and lava domes. The spectacular Puy-de-Dôme towers as the highest of the volcanic domes, with distinct telecommunication antennas visibly marking its peak.
---