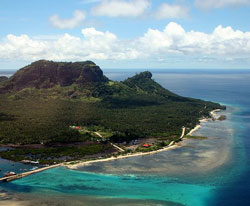 Several predominantly Muslim provinces and cities make up the Autonomous Region in Muslim Mindanao: Basilan (except Isabela City which, despite being Basilan's capital, is not considered part of the autonomous region), Lanao del Sur, Maguindanao, Sulu, Tawi-Tawi, and the Islamic City of Marawi, the country's only Muslim-majority city.

The beautiful Lake Lanao, believed to be the collapsed crater of a volcano, is one of the oldest lakes in the world and the deepest lake in the Philippines. Farming villages now surround this area.
The main campus of Mindanao State University is located in Marawi City. It contains the King Faisal Mosque, the Institute of Islamic and Arab Studies and the Aga Khan Museum. The museum holds a huge collection of indigenous art, recordings of ethnic music and dance, and native tools and weapons.
During celebrations such as the Feast of Hariraya Puasa, which marks the end of Ramadan , and the Shariff Kabunsuan Festival in December, the Rio Grande of Cotabato comes alive with boat races and water sports.
---