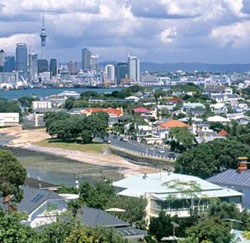 The Auckland Region is the largest, most populated, and most economically prosperous of New Zealand's 16 administrative regions. It is also the fastest growing, with 50 new residents being added to the population every day.

The region's urban areas are built on top of the Auckland Volcanic Field, which consists of 49 volcanoes of different ages. In ancient times, many of these volcanoes were levelled or altered to accommodate Maori settlements. More recently, the field has served as a quarrying site for scoria, a cindery volcanic rock that makes excellent construction material.
A busy port area, Auckland handles 70% of New Zealand's exports for distribution to other parts of the globe, and receives 40% of imports to the country. Because of this, it is a centre for thriving economic activity. New Zealand's top 200 companies have offices here as well as a quarter of the world's Fortune 500 companies.
Ranking fourth in the world in the 2009 Mercer Quality of Life survey, the region has all the characteristics for quality living: a number of suburban neighbourhoods and housing projects, a convenient transportation system, quality education, and health care.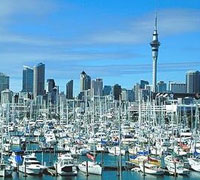 While it is a cosmopolitan region with luxury hotels, shops, world-class theatres and galleries, Auckland also has many spectacular natural attractions, such as the Great Barrier Island and Rangitoto Island. One could also enjoy hiking in Auckland's largest regional park, Waitakere Ranges, or climbing Mount Eden, the region's highest volcano.

Maori culture and history enrich the region. Excellent places to visit are the Auckland War Memorial Museum, which houses an extensive collection of Maori relics and artefacts; Howick Historical Village, a recreation of an early European settlement; and the New Zealand National Maritime Museum.
You can also enjoy panoramic views of the region through Sky Tower's Vertigo Climb and viewing platforms 300 metres above sea level. Thrill-seekers could even attempt the Tower's guide cable-controlled Sky Jump from 192 metres high.
---