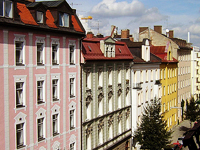 Though this area has been settled in for many years, World War II took its toll, and just a fifth of the pre-1919 buildings survived. But the historic old town of Haidhausen has mostly been preserved. It has been developed over the years, and is now one of Munich's popular residential areas.

The Friedensengel (peace angel) watches over the district in the north. Some of the other landmarks are Bayerische Landtag in the Maximilianeum, the Klinikum rechts der Isar and the Wiener Markt. The Villa Stuck houses an art museum. One of the area's architectural gems is Prinzregententheater, a stunning Art Nouveau theatre. Another outstanding building is the neo-baroque Neudeck Prison, which was built in the early 20th century and is now being restored as a hotel.
Lately both Au and Haidhausen have attracted a younger population. About a fourth of the residents are foreigners, and the district has the largest proportion of East Asian inhabitants in Munich.
Because of its proximity to the banks of the Isar, Au and Haidhausen was once a favourite location for breweries, and one of Munich's biggest ones, the Paulan.
Haidhausen
Haidhausen has become one of Munich's trendiest districts, having formerly been a working-class quarter. Along the banks of the Isar, it is quite green. There are many authentic pre-war buildings, from the grand Maximilianeum, to enormous apartment blocks, to charming rustic cottages. The Maximilianeum is a neo-Gothic palace influenced by the English Perpendicular style, built as the home of a foundation for gifted students. Since 1949 it has housed the Bavarian Landtag (state parliament).
This district is popular for its nightlife. There is a vibrant cultural scene, as this is where the Gasteig, Munich's most important cultural and educational facility is found. This complex is home to the city library. The Munich Philharmonic Orchestra and many concerts and other events take place in its theatres and auditoriums.
Au
Au is a charming former working-class district by the Isar River with many reconditioned pre-war buildings. Young people are especially attracted to this lively area. It boasts an outdoor pool as well as cinemas and theatres. It is also home to the German Museum. A favourite event here is the Auer Dult, a century old fair and jumble sale held three times a yearly on the grounds of the Mariahilfkirche. Nockerberg is a favourite place for strong beer.
Steinhausen
Steinhausen is primarily a residential area. It has some attractive housing, with a vast residential complex constructed in the 1950s comprising of five high-rise apartment blocks, along with a number of smaller buildings. Large areas of green space surround these buildings. There is a little shopping centre in this area but hardly any eateries. The area enjoys good public transport, with several tram and bus lines, and there is plenty of parking.
---